Can fish oil help treat heart disease?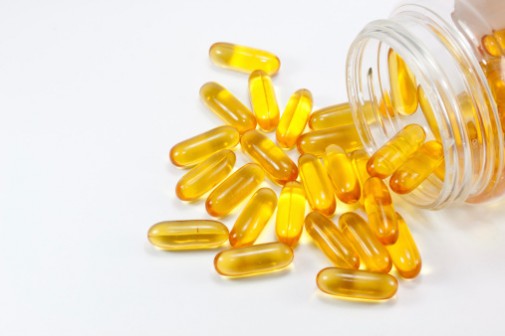 Are capsules full of omega-3 fatty acids the answer to controlling cholesterol levels and reducing heart attacks?
That's what researchers at Advocate Lutheran General Hospital aim to figure out in the coming years in a new study on prescription fish oil. The hospital in Park Ridge, Ill. is one of several sites across the globe researching the merits of fish oil in preventing subsequent heart attacks and other cardiac events in high-risk patients.
The study focuses on those with established heart disease who have low HDL (good) cholesterol levels and elevated triglycerides despite taking statin medicines to lower their LDL (bad) cholesterol.
"This will help answer the question of whether we should treat someone who has mixed cholesterol problems with the addition of fish oil capsules on top of statins (combination therapy) for better outcomes," says Dr. Alan Brown, chief of cardiology at Lutheran General Hospital. "We'll also learn if fish oil in capsule form is effective in reducing cardiovascular events."
Cholesterol-lowering drugs, called statins, have already shown to successfully lower bad cholesterol to prevent further blockages in blood vessels as well as to reduce heart attacks and strokes. Dr. Brown says some studies report statins reduce the risk of heart attacks and strokes by 40 to 50 percent.
"But," he adds, "many patients still have heart attacks despite statins so we need to see if adding other therapy will be beneficial in further reducing our patient's risk."
Whether fish oil improves heart health is highly debated among medical professionals. In recent years, results of studies have been mixed regarding whether fish oil in capsule form provides protection against heart disease.
"There are some people who believe it might be better to get omega-3 acids in a diet rather than capsule," Dr. Brown says. "This study will provide additional insight."
For now, patients at risk for recurrent heart problems should practice what has already proven to work.
To prevent accelerating heart disease, Dr. Brown recommends people:
Eat a diet low in saturated fat and cholesterol. That means less red meat and dairy products and more lean meats, fish or fowl (minus the skin), fruits, vegetables and whole grains. Monounsaturated fat, like that found in olive oil, is also good for the heart.
Aim to exercise regularly for at least 30 minutes a day.
Not smoke or use tobacco.
Make an effort to maintain a healthy weight.
Talk to a health professional about using statins to lower cholesterol.
Dr. Brown reminds supplements alone can't make up for an unhealthy lifestyle or not getting appropriate medication.
"People need to take control of their health," he says.
Related Posts
Comments
About the Author
health enews staff is a group of experienced writers from our Advocate Aurora Health sites, which also includes freelance or intern writers.