Energy drinks may pack a deadly punch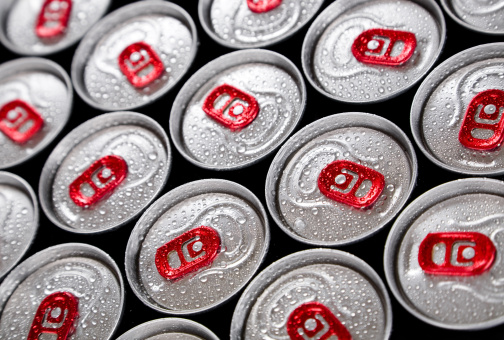 Children and adolescents are consuming more and more energy drinks without regard to the potentially devastating impact these drinks can have on the heart, according to recent studies.
The American College of Medical Toxicology reports that popular energy drinks are regularly consumed by 31 percent of 12- to 17-year-olds and 34 percent of 18- to 24-year-olds. The drinks have been associated with increased emergency department visits, which doubled from 10,000 visits in 2007 to nearly 21,000 visits in 2011 due to misuse or overconsumption of these beverages.
Dr. Andrew Van Bergen, pediatric cardiologist at Advocate Children's Hospital in Oak Lawn, Ill., attributes the rise in consumption of the drinks to a kind of in-vogue "trendiness."
"It's clear that energy drinks are considered trendy or cool in college, but I truly hope parents are not allowing their children to have energy drinks at a young age," Dr. Van Bergen says. "The extremely high dosage of caffeine in the drinks, combined with added stimulants such as guarana and taurine, poses an enormous risk for potential heart damage."
Caffeine and guarana consumption may lead to increased blood pressure and heart palpitations, the feeling of a rapid or pounding heartbeat. In addition, the high sugar content found in energy drinks can increase the risk of developing diabetes and obesity, putting an even greater strain on the heart.
"An energy drink is meant to act as a stimulant in order to keep you feeling awake. This consequently speeds up your heart rate, causing you to feel palpitations," Dr. Van Bergen says. Prolonged stimulation from the drinks can prove damaging to the cardiovascular system, but it may take only one energy drink to cause side effects, especially in individuals with unknown or underlying heart conditions and defects.
Dr. Van Bergen says that energy drinks can provoke arrhythmias–abnormal heart rhythms–and may stimulate onset of heart disease. One such heart disorder, hypertrophic cardiomyopathy, can be triggered by caffeine, resulting in irregular heart rhythms, high blood pressure and, potentially, sudden death from cardiac arrest.
Between 76 milligrams and 280 milligrams of caffeine are present in only eight ounces of an energy drink. Compare that to eight ounces of coffee, which contains approximately 95 milligrams of caffeine, and 12 ounces of a caffeinated soft drink, which  can deliver anywhere from 34 milligrams to 72 milligrams of caffeine.
"Most parents don't provide children with coffee because of the caffeine content, so why would they allow them to consume energy drinks?" Dr. Van Bergen asks.
In addition to inflicting possible cardiovascular damage, energy drinks serve as a diuretic, causing the kidneys to remove fluid from the body through urine. Because of this effect, an increased risk for dehydration is present from consumption of energy drinks.
While energy drinks are dangerous to everyone, Dr. Van Bergen says that adults have the ability to choose whether or not to consume the drink; children, however, require guidance.
"It is our job as adults to consider what energy drinks will do to a child's body," he says. "And, more specifically, what damage these beverages can cause to the heart."
Related Posts
Comments
About the Author
Holly Brenza, health enews contributor, is the public affairs coordinator at Advocate Children's Hospital. She is a graduate of the University of Illinois at Chicago. In her free time, Holly enjoys reading, watching the White Sox and Blackhawks, playing with her dog, Bear and running her cats' Instagram account, @strangefurthings.