Can a blood test predict Alzheimer's?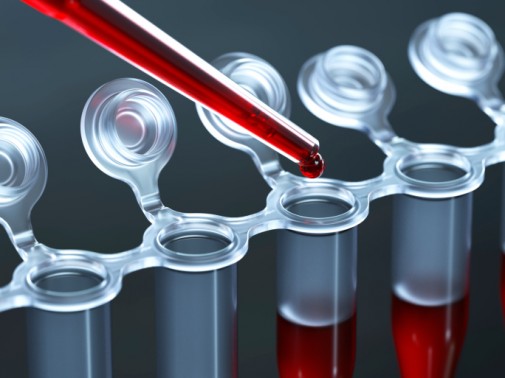 Alzheimer's disease, the sixth leading cause of death in the U.S., has traditionally only been identified at the onset of symptoms, such as memory loss, behavior changes or difficulty thinking clearly.
However, researchers recently announced a new blood test that can predict, with what they say is amazing accuracy, whether or not a healthy person will develop the disease.
Alzheimer's disease is a form of dementia that affected an estimated 5.2 million Americans last year, but is expected to affect 7.1 million by the year 2025. Researchers hope this blood test will assist in the development of new drug therapies to treat the condition, which currently has no known cure, as soon as it's detected.
"This is a very exciting finding, because it finally gives us a good opportunity to make clinically meaningful advances in Alzheimer's disease research and treatment," says Dr. Howard J. Federoff, the study's senior investigator and professor of neurology at Georgetown University Medical Center, in a press release.
"There have been many efforts to develop drugs that were thought to modify the history of Alzheimer's disease and, sadly, all of them have failed. One of the reasons for this is that the agents were tested in patients who already have the disease and that is the wrong stage to evaluate disease-modifying therapies."
By identifying those with the potential to develop Alzheimer's disease, but have not yet been affected by the condition, researchers hope to create treatments to prevent it. Though, Dr. Federoff warns, the possibility of a cure is years off.
The research, which is published in the journal Nature Medicine, reports that the measure of 10 lipids already circulating in your blood could predict, with greater than 90 percent accuracy, if you will develop symptoms of cognitive decline or Alzheimer's disease within three years.
The five-year study followed 525 participants aged 70 or older. Within the group, 46 participants were diagnosed with mild cognitive impairment or mild Alzheimer's disease and the time of enrollment, and 28 developed the symptoms during the course of the study. The blood test developed by the team revealed "marked differences in lipids between those who developed cognitive impairment or Alzheimer's" and those who didn't, a press release on the study states.
According to Dr. Raina Gupta, neurologist at Advocate Illinois Masonic Medical Center in Chicago, the development of this unique blood test is just the start of the Herculean task of finding a cure for the disease.
"This research is moving in the direction of identifying the risk factors for Alzheimer's disease," she says. "It's preliminary data, and will hopefully bring us to more concrete conclusions to potentially predict who will have Alzheimer's disease in the future. Further testing will need to be done before you'll be able to get this in your physician's office."
Related Posts
Comments
About the Author
health enews staff is a group of experienced writers from our Advocate Aurora Health sites, which also includes freelance or intern writers.