Sometimes, age is just a number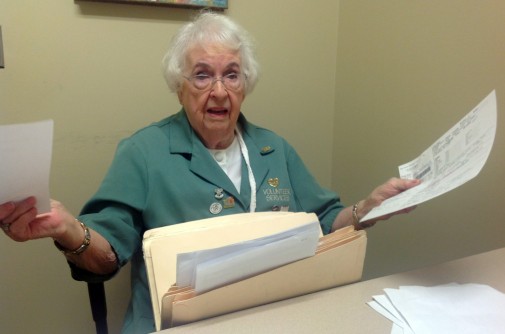 Sometimes, age is just a number.
At 90-years-old, Dorothea Stettner travels across the world, drives a car, bowls, line dances and practices tai chi to keep her mind and body sharp, among other things.
The longtime Elgin resident has also worked as a paid employee or volunteer at Advocate Sherman Hospital in Elgin, Ill., for the last 71 years.
She answered a blind newspaper ad in 1943 and was hired at the old Sherman Hospital, spending the next 44 years working in accounts payable and accounts receivable until she retired in June 1987. Three months later, she signed up as a volunteer in the hospital's surgery department, assisting with pre-op services.
Her fondest memories over the years include playing cards in the five-bed ward of the old hospital with men healing their broken bones; being one of the first employees to switch from using a fountain pen to ballpoint; and seeing penicillin used for the first time to help a young boy with a bone disease.
Those memories, and the possibility to create endless more, are what brings Stettner back to Sherman Hospital each Wednesday morning as a volunteer.
She sat down with Sherman Hospital Public Affairs and Marketing Coordinator Lawerence Synett to discuss what keeps her going after all these years.
Synett: What made you want to volunteer only a few months after retirement?
Stettner: At that time, you were forced to retire at 64. I reached that age and it was time for me to retire even though I didn't want to. I always loved my work and love working at Sherman Hospital. I wasn't ready to leave, and they were nice enough to ask me if I wanted to volunteer.
Synett: How has the hospital setting changed over the years?
Stettner: Years ago you knew everyone, but now, with hospitals being so large, you may only have the chance to get to know those in your department. Modern medicine is wonderful. We now have the latest equipment, which just amazes me. I remember when a patient would have his or her gall bladder removed, and they would be in the hospital for two or three weeks. Now, they come in one day and are home the next. Technology has taken hold, and Sherman Hospital has taken the lead.
Synett: What are some of your fondest memories?
Stettner: I can remember one of the doctors coming in and he started writing with his pen. I didn't see him dip the pen in ink, so I asked, "Where's the ink?" He said, "It's in the pen." I had finally graduated to a pen that had ink in it.
There was a polio epidemic in the 1940s and we created a floor for just the polio patients. When an ambulance would buzz in, I would literally put on a gown over my clothes, take the patient to the polio floor, and then take my gown off and go back to work. We did everything back then.
I can also remember when penicillin was first introduced. We had a 15-year-old boy with a bone diease and his mom and dad drove to Midway Airport to pick up the first penicillin Sherman Hospital even had. In just 24 hours, you could tell the difference already in the boy's well-being.
Synett: What keeps you going?
Stettner: I love to work here. I am treated wonderfully. And, I don't know what I would do if I didn't have anything to do. What I love about my job is that I feel like I accomplish something. If it sit too long, then it takes me a little while to get up, and if I were to stop, I don't know what would happen because I've never stopped. I have no plans to slow down anytime soon, and I'll be here as long as they want me.
Related Posts
Comments
About the Author
health enews staff is a group of experienced writers from our Advocate Aurora Health sites, which also includes freelance or intern writers.