How much you eat may depend on who you're with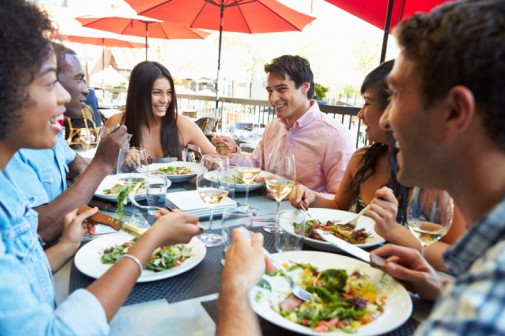 If you've ever walked away from a restaurant table thinking, "Wow, I'm stuffed. Why did I eat so much of that?" you're hardly alone. There are many factors that go into the selections we make when we dine, including our choice of dining companion.
According to a new survey published in the journal Appetite, eating with a person who is overweight may make us choose less healthy options at the dinner table.
The study, compiled by researchers from Cornell University's Food and Brain Lab and the Mayo Clinic, took 82 college students to lunch, where they were broken into four different groups to eat with one of four different actresses:
An actress wearing a prosthesis that added 50 pounds to her normally average weight who chose more pasta than salad
An actress wearing the prosthesis who chose more salad than pasta
An actress without the prosthesis choosing more pasta than salad
An actress without the prosthesis choosing more salad than pasta
Each group watched the actress serve herself before they made their own selections. According to the researchers, the groups that ate with the actress wearing the prosthesis and appeared overweight ate more than 31 percent more pasta, no matter what the actress chose. However, when the actress chose more salad, participants themselves ate more than 43 percent less salad.
In a press release posted by the Food and Brain Lab, the researchers say people will make less healthy selections when dining with someone who is overweight because they are less in tune with their own health goals.
However, preparation, they say, is key.
"This finding emphasizes the importance of pre-committing to meal choices before entering the restaurant," says the study's lead author, Mitsuru Shimizu, assistant professor of Psychology at Southern Illinois University. "If you go into the restaurant knowing what you will order you're less likely to be negatively influenced by all of the things that nudge you to eat more."
Gina Doocy, registered dietitian at Advocate Illinois Masonic Medical Center in Chicago, agrees.
"We always tell our patients, if you fail to plan, you plan to fail," Doocy says. "If you're going to eat out, check the menu beforehand and know what you're going to order. And stick with that plan."
She says she believes the problem of overeating is more a mindset that has been conditioned by growing serving sizes and consumer expectations at restaurants.
"I think where and what you eat are more important than your dining companion," Doocy says. "People eat too much—we all do. We need to encourage one another to support healthy eating, no matter what we look like or our size. Have the best interests of your friends at heart. That's much more important than what they look like."
Related Posts
Comments
About the Author
health enews staff is a group of experienced writers from our Advocate Aurora Health sites, which also includes freelance or intern writers.