Sorority of support born through fight against breast cancer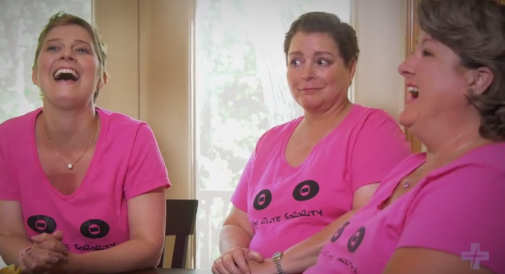 Ronnie O'Donnell has endured through a few tough years.
The South Elgin, Ill., resident has twice had both knees replaced, had her gallbladder and thyroid removed, and most recently, was diagnosed with breast cancer.
"I went in for a mammogram, an ultrasound and then a biopsy," says O'Donnell, 46. "I had Stage 2B breast cancer, but it didn't surprise me because of everything I had already gone through. I told myself, 'Bring it on.'"
While undergoing chemotherapy, radiation and a double mastectomy, O'Donnell befriended two women at the Cancer Care Center at Advocate Sherman Hospital in Elgin, Ill., who were facing a similar diagnosis and treatment.
The women formed the Theta Theta Girls, which isn't your typical sorority – no pledging, partying or a sorority house, but plenty of sisterhood.
"For those of us who have had the double [mastectomy], we have taken our breast cancer diagnosis as far as it can go," O'Donnell says. "We could have chosen easier paths, but we did it to live longer, have fewer issues, and to know that we would survive."
Founded by O'Donnell, Lakewood, Ill., resident Tina Conrad and Algonquin, Ill., resident Robin Raymond, the Theta Theta Girls now include more than 10 women who have undergone double mastectomies, and a number of others dealing with breast cancer at different levels.
"We met at the support group at Sherman Hospital, and we talked about how those with breast cancer, specifically a double mastectomy, were a sorority that not every woman could join," O'Donnell says. "The Theta Theta Girls are an extension of that support, a sisterhood of women with breast cancer who you can count on."
The diagnosis
The three women took very different paths to Sherman Hospital.
O'Donnell had just finished a workout at a local fitness center when she noticed a lump in her left breast. She waited to have it checked for a couple of weeks because she thought she may have just injured herself at the gym, but the lump remained.
"It was not as bad as it could have been," says O'Donnell, who has been married for 14 years and has a 12-year-old daughter. "I decided to have a double mastectomy because if it could go wrong with me, it would go wrong, and I didn't want to deal with that chance if I didn't have to."
Raymond was receiving her annual mammogram in December 2012 when a lump was found on her left breast.
Six months later, she was diagnosed with Stage 0 breast cancer, and a further scan revealed she had Stage 2 breast cancer in her right breast.
"I was overwhelmed and shocked at first," says Raymond, 53. "I've just tried to stay positive and keep moving forward. 'What's next?' has always been my motto. My attitude and support from the girls has helped me through this."
Conrad, 38, noticed a change with her breasts in August 2013.
There was no lump, but "it just looked different and the center was pulling in."
She ignored it for a few months, and when it didn't improve, she talked with her gynecologist. One mammogram led to another, which led to a scan, which led to the diagnosis of Stage 3A breast cancer in her right breast. The cancer had also spread to her lymph nodes.
"Until you know what you are up against, it's the scariest moment of your life," says Conrad, whose mother is a two-time breast cancer survivor. "Because of what my mom had already gone through, that mystery was already solved, but I never thought it would happen to me in my 30s."
An instant bond
Although diagnosed at different times, the trio's treatment schedule and recovery efforts at Sherman Hospital followed similar paths to a double mastectomy.
Each underwent chemotherapy, radiation and other treatments, and the more they were at the hospital, the more they would lean on each other for support.
Conrad was working during her treatment, and reached a place during chemotherapy where she was an emotional wreck. She decided to attend the support group at Sherman Hospital, where she met O'Donnell, Raymond and Algonquin resident Sandy Clausen.
"I instantly hit it off with Ronnie [O'Donnell], and Robin [Raymond] I knew from work but had no idea she was going through the same thing," Conrad says. "We were kind of special in a way because we were all experiencing things within a few months of each other."
Raymond agrees.
"It instantly became a sisterhood of connection and support," says Raymond. "It made it easier to go through the process with people going through the same things you were. It gave you someone to listen to, and made it easier to deal with."
Theta Theta Girls are born
O'Donnell knew after only a short time that the group needed a name, but it wasn't until she was perusing the Internet for information about the Greek alphabet that the Theta Theta Girls was born.
"I decided I was going to go out and make T-shirts for our sorority," says O'Donnell. "I went online to look at the Greek letters, saw the letter for Theta, and was like, 'Oh my God. That's it.'"
The eighth letter in the Greek alphabet, the symbol for Theta is most commonly seen as a circle with a dash in the middle of it.
For O'Donnell, placing two Theta symbols together looked exactly like what a woman's breasts looks like after a double mastectomy.
"When you have a double mastectomy and have your nipples removed, the symbols are what your breasts look like," says O'Donnell. "The day I brought them their T-shirts, the breast cancer sorority was born."
"We all got a kick out of the T-shirts," says Conrad, who along with Raymond and O'Donnell, are now breast cancer survivors. "The Theta Theta Girls just kind of evolved. It's fun to see how it changes from being about helping each other to being about celebrating."
Besides meeting for lunch and other activities as a group, the founding members continually text message, call and email each other.
O'Donnell also travels to Sherman Hospital to recruit new members, offering them support and guidance through their mastectomies.
"It helps with recovery, but it also helps me to be able to talk about it," O'Donnell says. "I want to make sure that no one else has the insecurity and frightened feeling about what they are going to look like afterward."
Related Posts
Comments
About the Author
health enews staff is a group of experienced writers from our Advocate Aurora Health sites, which also includes freelance or intern writers.