Raising risks of childhood obesity before birth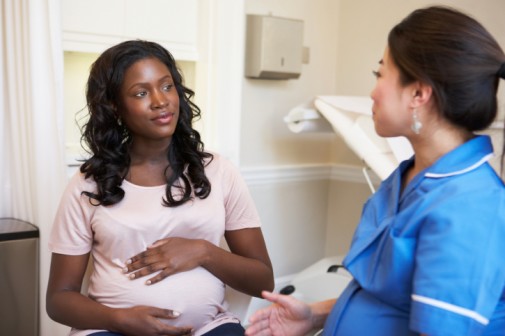 Two common medical practices can actually raise a child's risk of becoming obese before he or she even enters the world, according to a new study by Columbia University's Mailman School of Public Health.
Researchers found that children who were exposed to antibiotics in the second or third trimester of pregnancy had a higher risk of childhood obesity at age 7. Separately, they concluded there was a higher risk of childhood obesity when mothers delivered their babies by a Caesarean section, whether elective or non-elective.
Study findings are published online in the International Journal of Obesity.
Antibiotics
Previous studies have shown that antibiotics administered early in life may be associated with increased risk of obesity in childhood, but this is the first evidence that antibiotic use in the second or third trimester of pregnancy increases the risk of child obesity, according to Noel Mueller, PhD, postdoctoral research fellow at Columbia University's Mailman School of Public Health and Institute of Human Nutrition.
Researchers looked at data from the Northern Manhattan Mothers and Children Study, which recruited healthy, non-smoking women from prenatal clinics at New York-Presbyterian Hospital and Harlem Hospital Center between 1998 and 2006. Of 727 mothers enrolled in the study, 436 mothers and their children were followed until 7 years of age. Of these 436 children, 16 percent had mothers who used antibiotics in the second or trimester. Those exposed to antibiotics had an 84 percent higher risk of obesity, compared with children who were not exposed, researchers said.
"Our findings on prenatal antibiotics and risk for offspring obesity are novel, and thus warrant replication in other prospective cohort studies," Mueller said in a press release. "If these findings hold up, they suggest new mechanisms through which childhood growth trajectories are influenced at the earliest stages of development."
Dr. Megan Cox-Pedota, an Advocate Medical Group obstetrician practicing at Advocate Condell Medical Center in Libertyville, says that patients should ask questions of their providers, but there's no need to change care plans based on the study alone.
"While it's good to be cautious, patients should know that there have been many studies confirming the safety of antibiotics in pregnancy," Cox-Pedota says. "Antibiotics are the best weapon in fighting bacterial infections, which pregnant woman are more prone to get. It's really crucial to work with your doctor to understand the risks and benefits."
Caesarean
Delivery by Caesarean section was also associated with a higher risk of childhood obesity. Using the same data, researchers controlled for maternal age, ethnicity, birth weight, sex, breastfeeding in the first year, and gestational antibiotics or delivery mode. They found that children born by Caesarean were 46 percent more likely to be obese.
"Our findings are consistent with a series of papers that looked at data on Caesarean section. While earlier studies suggested that childhood outcomes differ by whether the Caesarean section was elective or non-elective, we did not observe such evidence," said Andrew Rundle, DrPH, associate professor of Epidemiology at the Mailman School of Public Health. "Thus, our findings provide new evidence in support of the hypothesis that Caesarean section independently contributes to the risk of childhood obesity."
Similar to antibiotic use during pregnancy, Caesarean section birth is thought to reduce the normal transmission of bacteria from the mother to the child and to disturb the balance of bacteria in the child. "Strategies to reduce medically unnecessary C-sections and to provide the infant with health promoting bacteria after C-section need to be researched," noted Mueller.
"This is another reason to carefully look at Caesarean delivery," said Dr. Cox-Pedota. "While it's necessary in some cases, women who are able to deliver vaginally should do so. In the majority of births, it is safest for both mom and baby."
Related Posts
Comments
About the Author
health enews staff is a group of experienced writers from our Advocate Aurora Health sites, which also includes freelance or intern writers.