Young girls ignore cancer risk from tanning indoors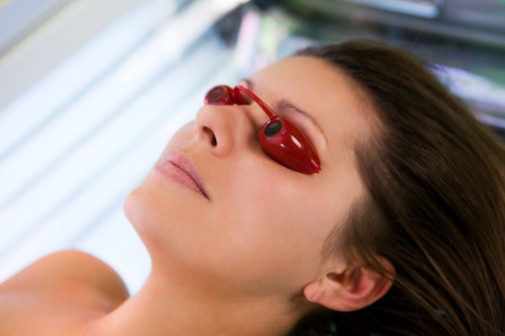 While many young women want the "bronzed glow" that comes from indoor tanning, the reality is that any tan is a telltale sign of skin damage. Despite the known link to skin cancer, indoor tanning continues to be a popular especially during the long, dark winter months.
According to a report by JAMA Internal Medicine, 29.3 percent of white female high school students engaged in indoor tanning at a minimum of once per year and 16.7 percent went indoor tanning "frequently," defined as at least 10 times in 12 months.
Indoor tanning isn't solely a popular pastime for high school students. The report also found that 24.9 percent of young women under the age of 35 went indoor tanning at least once per year and 15 percent were frequent users.
According to Dr. Suleman Bangash, skin cancer MOHS surgeon and dermatologist on staff at Advocate Sherman Hospital in Elgin, Ill., the ultraviolet radiation from tanning beds, tanning booths and sunlamps is a known carcinogen.
"Studies have shown that people who participate in indoor tanning have higher rates of skin cancer," Dr. Bangash says. "In my practice, I am seeing younger individuals being diagnosed with skin cancer. I have a patient who was a frequent indoor tanner and she was diagnosed with melanoma in her early 20s. Her skin cancer was directly attributed to indoor tanning."
Indoor tanning significantly increases a person's risk for melanoma, the deadliest form of skin cancer. In fact, people who begin indoor-tanning before the age of 35 have a 75 percent greater risk of developing melanoma, according to the Centers for Disease Control and Prevention. Indoor tanning is also linked to other skin cancers, including squamous (cervical cancer-causing cells) and basal cell carcinomas and ocular melanoma (cancer of the eye).
While tanning indoors and outdoors is dangerous, ultraviolet light (UVB and UVA rays) are often more intense in a tanning bed due to the close proximity to a person's skin.
"The amount of ultraviolet radiation is significant, more so than what you would find on a typically summer day in Illinois," Dr. Bangash says. "Tanning beds have a stronger form of ultraviolet radiation that is evenly distributed over the entire body."
So how do you counteract the popularity of indoor tanning even when people understand the risk?
Dr. Bangash believes the answer lies in changing society perceptions.
"As a society we need to change our perceptions about what is considered "attractive" and this may drive less people to partake in this dangerous activity," he says. "In the past, people would often say, 'it's healthy to have a tan,' but the reality is that there is no such thing as a healthy tan."
Related Posts
Comments
About the Author
health enews staff is a group of experienced writers from our Advocate Aurora Health sites, which also includes freelance or intern writers.