Hug more to stay healthy?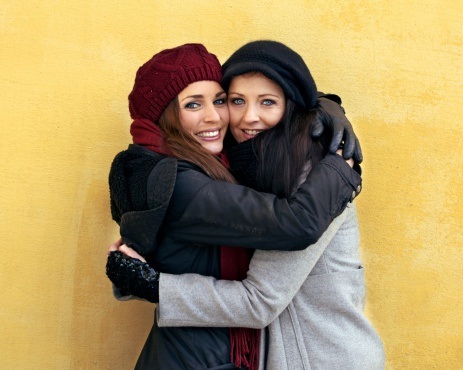 Are you trying to avoid the sickness that anxiety and stress can bring this winter? Researchers says to give someone a hug.
According to a recent study published in Psychology Science, individuals who were stressed and received hugs were less likely to get sick.
More than 400 healthy adults were surveyed over a two-week period asking how often they had been hugged and if they had been involved with any conflicts. Then these adults were exposed to a cold virus and quarantined for a week to see if they got sick.
For individuals who were not stressed, hugging did not have an effect on whether they would develop a virus or not. However for those who were stressed, receiving a hug mattered. They were less likely to get sick compared to those who were not hugged. When they did get sick, they were less likely to feel sick. In fact, researchers said that the more someone was hugged, the lower the risk infection and the less likely they were to experience cold symptoms associated with the virus.
"This suggests that being hugged by a trusted person may act as an effective means of conveying support and that increasing the frequency of hugs might be an effective means of reducing the deleterious effects of stress," said Sheldon Cohen, lead study author and professor at Carnegie Melon University, in a statement. "The apparent protective effect of hugs may be attributable to the physical contact itself or to hugging being a behavioral indicator of support and intimacy."
But with flu season in full swing and an increasing number of cases spreading across the country, health experts say we need to hug with caution.
"Influenza is a viral respiratory illness, so it affects the nose, throat and lungs," says Dr. James Malow, chair of internal medicine and chief of infection control at Advocate Illinois Masonic Medical Center in Chicago. "But there are many things you can do to avoid being infected."
Most importantly, Dr. Malow says, is to get vaccinated against the flu. It's not too late to get a flu shot or nasal vaccination, he says. However, it does take about two weeks for your body to build up the antibodies against the virus, so it's important to note that you will not be immediately protected.
Additionally, he offered these tips to help avoid the flu this season:
Wash your hands frequently, using soap and water or alcohol-based hand gels or lotions. Rub your hands together for at least 20 seconds to eliminate germs, being certain to wash around your fingernails and up your wrists.
Cover your coughs and sneezes, using a tissue, handkerchief or the crook of your elbow. If you cough into your hands, wash them before touching anything to avoid possibly spreading illness on to others.
If possible, limit time in large crowds, especially in tight spaces, where germs are easily spread.
If you do get sick, stay home! You'll need the rest and time to heal for yourself and you'll avoid spreading the infection to your co-workers.
Keep your immune system healthy and ready to fight off infection by eating right, getting plenty of rest and exercising regularly.
Related Posts
Comments
About the Author
health enews staff is a group of experienced writers from our Advocate Aurora Health sites, which also includes freelance or intern writers.