Are some popular nutrition bars not so good for you?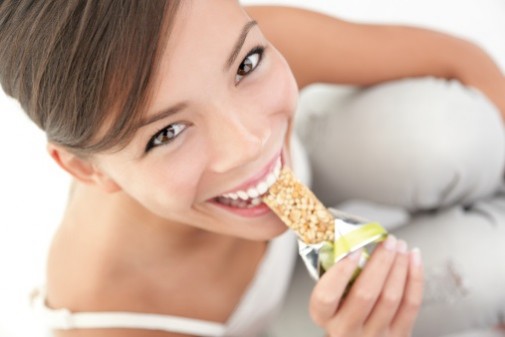 KIND Health Snacks, the fast-growing start-up company with a reputation for snack bars made from natural ingredients, recently received a warning letter from the Food and Drug Administration stating that several of its bars did not comply with labeling standards because they contain too much saturated fat.
The FDA stipulates there has to be less than 1 gram of saturated fat per serving to earn the right to be labeled as healthy. Four KIND bars – Fruit and Nut Almond and Apricot, Fruit and Nut Almond and Coconut, Plus Peanut Butter Dark Chocolate + Protein, and Dark Chocolate Cherry Cashew + Antioxidants – were labeled as healthy, but have 2.5 to 3.5 grams of fat.
"Nuts, key ingredients in many of our snacks…contain nutritious fats that exceed the amount allowed under the FDA's standard," said Joe Cohen, a spokesperson for KIND, in a news release. He believes that nuts are to blame for the labeling issue.
Some nutrition experts applaud government scrutiny when it comes to labels.
"I am glad that the FDA has labeling restrictions," says Janel Steinhoff, dietitian at Advocate Christ Medical Center in Oak Lawn, Ill. "Without regulations, any company could market their products as healthy. Every person has different nutritional needs based on his or her overall health goals."
Cohen pointed out that their bars are similar to other foods such as avocados, salmon and eggs that are usually considered to be healthy despite not meeting the standards for the use of the term.
Steinhoff cautions that no food is good in excess.
"The types of fats in nuts, avocados, salmon and eggs are beneficial to overall health when eaten with portion control," she says. "Eating one of these KIND bars per day could fit into most people's balanced diet."
Steinhoff recommends people speak to their cardiologist, primary care physician or nutritionist to determine how much fat their diet should contain.
KIND is working with the FDA and will change the labels, but not the recipes.
"We're making it clear that this relates to a regulatory definition, and that our bars are wholesome and nutritious," Cohen said, in the release.
Related Posts
Comments
About the Author
Kate Eller was a regional director of public affairs and marketing operations for Advocate Health Care. She enjoys road trips, dogs, minimalism, yoga, hiking, and "urban hiking."