Ankle replacement helps motorcyclist keep riding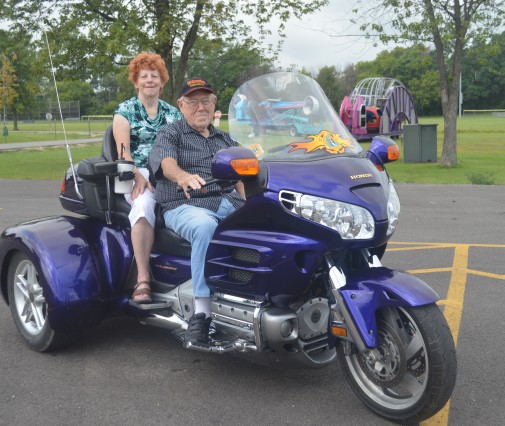 Imagine needing an operation that would eliminate pain, but could prevent you from doing something you love forever.
That was the dilemma facing 77-year-old Dwayne Stephens of Winthrop Harbor, Ill.
For three years, he suffered arthritis in his left ankle that made walking so agonizing he dreaded it. The pain even restricted participation in his passion, riding his Honda Goldwing motorcycle with Belle Stephens, his wife of 58 years, on the seat behind him.
The retired U.S. Marine Corps gunnery sergeant sought help from Dr. Gregory Caronis, an orthopedic surgeon at Advocate Condell Medical Center in Libertyville, Ill. Dr. Caronis provided Dwayne Stephens with two options to help him fix the aching pain – ankle fusion or total ankle replacement.
The goal of fusion, also known as ankle arthrodesis, is to relieve pain and maintain or improve function, according to the American Orthopaedic Foot and Ankle Society. When performing arthrodesis, the surgeon fuses the ankle bones together. Successful surgery eliminates pain, but it also results in a decrease in motion.
"I have been doing arthrodesis for many years," Dr. Caronis says. "The success rate is high and patients typically are willing to trade a slight decrease in range of motion for elimination of arthritic pain."
But Dwayne Stephens wasn't willing to make that trade-off.
Riding his motorcycle was important to him and those days would be over if his ankle bones were fused because that would prevent him from using his foot to shift gears.
"It was essential to have the flexibility to operate that gear shift," says Dwayne Stephens, who opted for total ankle replacement.
Dr. Caronis performed the surgery on a Friday, removing the arthritic bone and replacing it with a Scandinavian Total Ankle Replacement prosthesis. He was discharged from the hospital three days later. As instructed, he elevated his ankle when in bed, and put no weight on it throughout the day. To get around, he also used a knee walker, also known as a knee scooter.
"It took me about a month and I was totally walking," says Stephens, who is back to enjoying motorcycle rides with his wife. The two even have begun walking every morning at a park near their home.
"He hasn't walked this well for years," Belle Stephens says.
Dr. Caronis says total ankle replacement is not as common as total hip replacement or total knee replacement, but advances in implant design are making it a more viable option for people.
"It's been a constant evolution over a number of years," Dr. Caronis adds. "Implants have become more durable. They are likely to last 10 to 15 years."
That was good news for Dwayne Stephens.
"That's good by me," he says. "Since I've had the surgery, I haven't had one day of ankle pain."
Related Posts
Comments
About the Author
Kathleen Troher, health enews contributor, is manager of public affairs and marketing at Advocate Good Sheperd Hospital in Barrington. She has more than 20 years of journalism experience, with her primary focus in the newspaper and magazine industry. Kathleen graduated from Columbia College in Chicago, earning her degree in journalism with an emphasis on science writing and broadcasting. She loves to travel with her husband, Ross. They share their home with a sweet Samoyed named Maggie.