Why I play tennis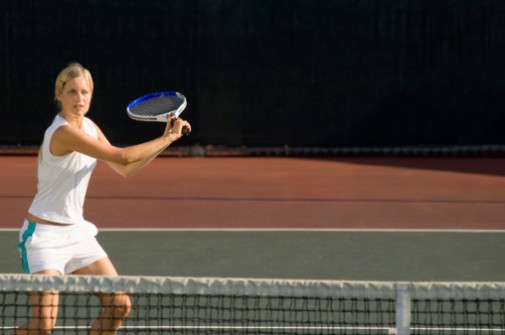 Tennis imitates life. Even the language is similar: love, advantage, service, fault and more. I am thankful to my parents for dragging me to the tennis courts at a young age to begin this lifelong journey.
After playing through high school, I took a bit of a hiatus in college, marriage and having children. About eight years ago, I was drawn back to tennis when a local indoor club opened up down the street. I started taking lessons, playing cardio tennis and now play weekly and frequently on a competitive United States Tennis Association league. I am so blessed and humbled by the sport.  I have met lifelong friends and enjoy escaping with them in the cold Chicago winters to warmer climates to play. Like life, there have been a few downsides as well, like tearing my ACL, a shoulder injury and just plain soreness if I play too much or too hard.
Tennis is a pastime that combines the perfect blend of healthy exercise, competition and social interaction. I can see why it has been called the sport of a lifetime. Here are a few things I have learned throughout the years:
Take one point (day) at a time. Like many sports, tennis is as much mental as it is physical. If you hit the ball in the net or out, shake it off and get ready for the next point.
Be proactive-drive the net at times. Honestly, this is something I need to work on as I tend to be more of a backcourt and defensive player and like it when my opponents make mistakes. That statement made me laugh as I guess I can be that way in life too.  I need to remind myself to be assertive on and off the court.
Play to your strengths. For years, I was focusing on the weakest part of my game: my serve. Now, I appreciate my strong forehand and ability to keep the ball in play and be patient.  I have taken a bit of the pressure off myself in having a strong serve and this has helped my game.
Critical thinking is critical: I have learned that I always need to be in the "moment" and critically analyze the situation, making adjustments in order to achieve success.
Natural abilities and strengths can only get you so far. You might serve very well, but other people might have a very strong backhand. But in the end, the person who wins is the person who uses his or her competitive strengths and works hard on other parts of their game.
Practice makes perfect (well almost). Tennis is not the type of sport you can pick up easily. It is similar to piano, as it is best to learn from an instructor and practice frequently.
Play your game. Don't let what others think of you or their lack of support bring you down. It's always nice to have people by your side. But sometimes, people will root for others. Bring your "A" game anyway.
Sometimes, life will be unfair. You just have to suck it up, move on and not let it impact your performance. Sometimes, the opponent will make the wrong call, and you won't be able to change it. I have learned the best thing to do is accept it and move on.
Your emotional intelligence is as important, if not more, than your technical skills. A lot of tennis players on court lose not because they are technically not strong, but because they are unable to take the pressure when the stakes are high.
And last but not least-enjoy what you do! Life is short, if you are not enjoying the sport, pick another form of exercise. Smile when you win a point by chance, cheer for your opponent when he smashes that overhead and laugh at yourself when you miss a shot (laughter also helps with relaxation).
Related Posts
Comments
About the Author
health enews staff is a group of experienced writers from our Advocate Health Care and Aurora Health Care sites, which also includes freelance or intern writers.