Get relief from fall allergies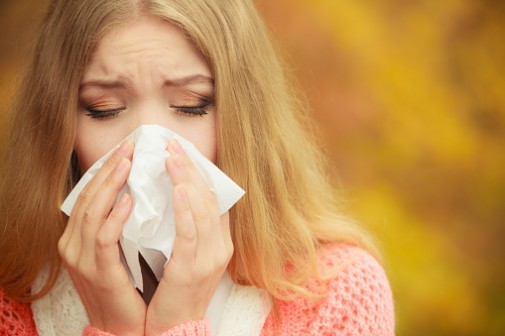 Warm days and cool nights are clear indicators that autumn has arrived. However, for the 35 million Americans who suffer from seasonal allergies, it means sneezing, wheezing, watery eyes, an itchy throat and a stuffy nose.
Hay fever, also known as seasonal allergic rhinitis, is caused when allergens from trees and grasses float through the air in fall and spring, according to the National Institutes of Health. The allergens, which can enter the nose, eyes, ears and mouth, trigger an allergic reaction.
Ragweed and mold are the biggest culprits for allergy sufferers during the fall, says Dr. Raymond Pongonis, an allergist at Advocate Good Samaritan Hospital in Downers Grove, Ill.
"Most people associate allergies with spring's blooming flowers and trees, but allergens are present all year round," he says. "Right now we are in the peak season for ragweed and mold, which can cause significant difficulty for allergic individuals."
The Midwest is the mecca for ragweed, which can often be seen growing alongside highways and in forested areas. Ragweed blooms and releases pollen into the air from August to November, causing all sorts of problems for allergy sufferers.
Fall's rainy weather also causes mold levels to rise. The remains of summer gardens and fallen leaves accumulate moisture and become mold hot spots.
The combination of mold spores and pollen can be devastating for those who suffer from hay fever. Fall allergens can also trigger other forms of chronic airway disease, such as asthma, and predispose patients to the development of sinus infections. Allergies can contribute to chronic fatigue and can also exacerbate migraine headaches.
Dr. Pongonis says it's important to maintain control of allergic inflammation.
"The key to prevent allergy symptoms is to be proactive and start your regimen early before the season revs up," he says. "Too often patients wait to take their medication until they start having symptoms. At that point, you are simply playing catch up. Certain medications such as intranasal steroid sprays should be initiated a few weeks before an allergy season begins in order to reduce your susceptibility."
Aside from over-the-counter allergy remedies, avoidance remains the best treatment for all forms of allergy. Consider trying these environmental control measures:
Avoid the outdoors when allergens are at their peak. Pollen is highest in the morning.
Keep your windows closed and use either an air conditioner or humidifier.
Remove decaying leaves and vegetation from the yard.
Wear gloves and a mask when raking leaves.
If your allergies are severe, and not controlled with avoidance and over-the-counter remedies, an appointment with an allergist may be a good next step. They can outline a personalized treatment plan, which is likely to include antihistamines, decongestants, corticosteroids, and allergen specific avoidance measures.
The visit will also open the door to the option of higher-level treatments for allergy, such as immunotherapy (or allergy shots), which is reserved for patients who do not achieve relief through standard medical therapy or for those who prefer a more natural approach to managing symptoms.
Related Posts
Comments
About the Author
Johnna Kelly, healthe news contributor, is a manager of public affairs and marketing at Advocate Christ Medical Center in Oak Lawn. She is a former newspaper reporter and spent nearly 10 years as a public relations professional working for state and county government. During her time as a communications staffer for the Illinois General Assembly, she was integral in drafting and passing legislation creating Andrea's Law, the nation's first murderer registry. In her spare time, she volunteers at a local homeless shelter, enjoys traveling, photography and watching the Chicago Bulls.