Walnuts have 21 percent fewer calories than we thought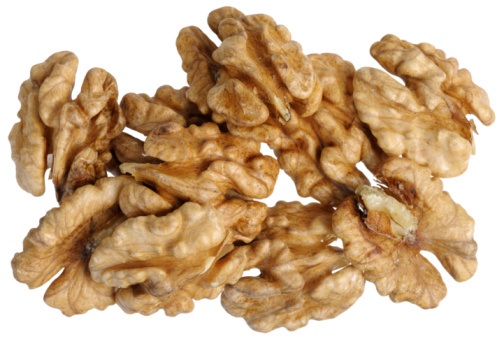 Walnuts don't have as many calories as previously thought, according to a recent study conducted by the United States Department of Agriculture and California Walnut Commission.
It was thought that 1 ounce of walnuts had 185 calories, but after taking into account the digestibility of walnut pieces and halves, researchers determined that same ounce of walnuts has just 146 calories (21 percent less).
Rosemary Mueller, a registered dietitian with Advocate Weight Management in Libertyville, Ill., says the amount of calories in walnuts originally was determined using the Atwater system, which indirectly calculates calories by estimating 4 kilocalories per gram of protein or carbohydrate and 9 kilocalories per gram of fat. However, for this study, bomb calorimetry, which directly calculates calories, was used.
Researchers assigned 18 adults to a controlled diet without walnuts or a controlled diet containing 1.5 servings of walnuts for a three-week period. The diets, walnuts, fecal and urine samples were collected, and bomb calorimetry was used.
To determine the kilocalories in a given food using a Bomb calorimeter, food is placed in a sealed container surrounded by water, Mueller says. The food is then burned in the container, and the resulting rise in the water temperature was measured.
"All things considered, walnuts are a rich source of unsaturated fatty acids, contain no cholesterol or sodium [if unsalted], are low in saturated fatty acids and a rich source of fiber, protein, essential micronutrients and other bioactive compounds," says Mueller. "Compared to other nuts, they contain the highest amount of omega-3 essential fatty acids [also known as ALA], which promote heart health and help lower blood pressure."
Mueller recommends eating small amounts, about a .25 of a cup.
To enjoy them, try the following:
Top your oatmeal, salads, cereals or yogurt with walnuts
Mix with little dried fruit for an easy snack-on-the-go
Mix them in a whole-grain pilaf or quinoa salad recipe
Pair them with other sweet or savory cooked dishes
Bake them into a whole grain cookie recipe for an occasional treat
"Even though the study points to a potential 'reduction' of 39 calories less per ounce of walnuts – as previously thought, remember that a calorie is still a calorie – and even with nutritious items, we can eat too much," says Mueller.
Related Posts
Comments
About the Author
health enews staff is a group of experienced writers from our Advocate Aurora Health sites, which also includes freelance or intern writers.