New device helps those with heart failure lead more normal lives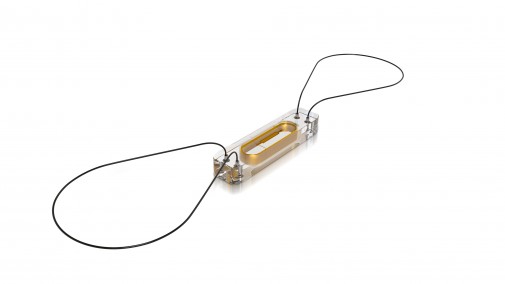 Sandra Crosby was the first Advocate Health Care patient to receive CardioMEMs, the only FDA-approved heart failure monitoring device.
The technology has the potential to make a significant improvement in her quality of life.
"The device means a great deal to me," says Crosby. "I'm hoping it will help keep me out of the hospital and reduce the risk of going into heart failure."
The device is implanted during a non-surgical procedure, where a sensor is placed in a patient's pulmonary artery to measure pressure. Increased pulmonary artery pressure appears before weight and blood pressure changes, which are indirect measures of worsening heart failure.
Once permanently implanted in the artery, the CardioMEMs wireless sensor transmits pressure data to health care providers, allowing for personalized and proactive heart failure management. The device helps physicians keep an eye on a patient's symptoms when the patient is away from the hospital, providing a better quality of life.
Heart failure patients utilizing the CardioMEMs system have a portable, electronic unit and a special pillow containing an antenna to take daily sensor readings. The process takes just a few minutes a day, and patients feel no pain or sensation during the reading. The electronic unit then transmits the data to the patient's clinician.
"From a clinical trial standpoint, the CardioMEMs technology has been shown to reduce heart failure hospital admissions by up to 43 percent," says Dr. Sunil Pauwaa, cardiologist at the Advocate Heart Institute on staff at Christ Medical Center in Oak Lawn, Ill.
Dr. Pauwaa performed Crosby's implantation in September.
"CardioMEMs is giving us an opportunity to stay ahead of Sandra's heart failure," says Dr. Pauwaa. "The device makes it possible for us to monitor a patient while he or she is at home or even on vacation."
The CardioMEMs system was an ideal choice for Crosby due to her frequent hospital readmission and persistent heart failure symptoms that, on multiple occasions, required emergency medical treatment, including intubation.
"The data that comes back to the Heart Failure Clinic can warn Dr. Pauwaa and my nurses if something is wrong," says Crosby. "This way they can call me and help me make adjustments."
Dr. Pauwaa says CardioMEMs has already helped prevent Crosby's readmission.
Heart failure occurs when the heart is unable to pump enough blood to meet the body's demand. The U.S. Centers for Disease Control and Prevention estimate that 5.1 million Americans are living with heart failure. These patients face frequent hospital admissions, a reduced quality of life and a higher risk of death.
Photo credit: CardioMEMS HF System
Related Posts
Comments
About the Author
Holly Brenza, health enews contributor, is the public affairs coordinator at Advocate Children's Hospital. She is a graduate of the University of Illinois at Chicago. In her free time, Holly enjoys reading, watching the White Sox and Blackhawks, playing with her dog, Bear and running her cats' Instagram account, @strangefurthings.