Untreated pre-K vision problems hinder grade school readiness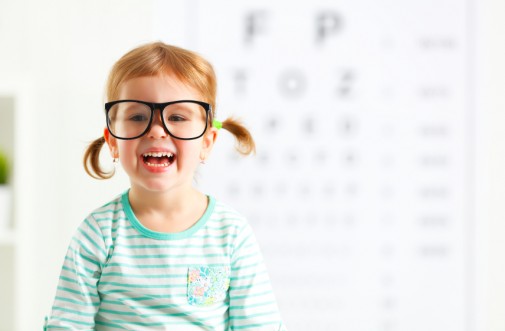 Preschool children with uncorrected farsightedness perform significantly worse on early literacy exams, a new study shows.
The study, funded by the National Eye Institute, compared four- and five-year-old children with normal vision to those with moderate hyperopia, or farsightedness, a condition that causes nearby objects to appear blurred. Those with moderate vision problems scored significantly worse on the Test of Preschool Early Literacy than their peers with regular vision. Performance was most affected in the print knowledge domain of the test, which assesses the ability to identify letters and written words.
"This study suggests that an untreated vision problem in preschool, in this case one that makes it harder for children to see things up-close, can create literacy deficits that affect grade school readiness," said Maryann Redford, a program director in Collaborative Clinical Research at National Eye Institute, in a study news release.
Hyperopia occurs when the eye is shorter than normal or the cornea is too flat. As a result, the light entering the eye is often not focused correctly. Usually inherited, farsightedness often begins at birth, but many children do not experience blurry vision and most outgrow the condition.
"My grandfather was blind as I grew up so just being aware of his illness and some of the limitations and lack of access really made me cognizant about the need for vision care," says Dr. Dovilan Wyatt, an ophthalmologist at Advocate Trinity Hospital in Chicago. "People need to get their vision checked early. Vision is a way to peer into people's lives and really make impactful change."
The American Optometric Association recommends checking your child's vision at the age of six months even if they are asymptomatic. They also recommend vision screenings at age three, again before first grade and every two years after that.
Children considered to be at risk for vision problems may need additional testing or more frequent evaluations. Factors placing an infant, toddler or child at significant risk of vision problems include prematurity, low birth rate, family history of retinoblastoma (cancer of the retina) or damage to the central nervous system.
Related Posts
Comments
About the Author
health enews staff is a group of experienced writers from our Advocate Aurora Health sites, which also includes freelance or intern writers.