Cardiac rehab key to recovery after heart surgery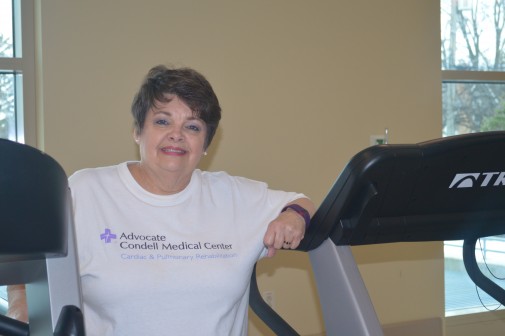 Pat Tennerman has this advice for heart patients – take advantage of a cardiac rehabilitation program.
During her 12 weeks in the program at Advocate Heart Institute at Advocate Condell Medical Center in Libertyville, Ill., Tennerman looked forward to the camaraderie with other patients and being put through the paces by the staff.
"I truly enjoyed the classes," says Tennerman, of Gurnee, Ill. "I felt I was in tip-top hands the whole time."
Tennerman's road to rehab didn't come easy. An aortic valve replacement and coronary artery bypass surgery in July 2015 was followed by a 10 day hospital stay and then another 10 days at a rehab center in Lincolnshire, Ill. Not quite 24 hours after returning home, Tennerman was back in the hospital for seven days after a blood clot emergency threatened her life.
Finally in October she was ready for rehab. By the time she graduated from the outpatient program, she was affectionately calling the staff "the rehab girls." She even knitted them scarves and winter headbands as a thank you.
Exercise and education are key
Whether she was walking on the treadmill, peddling the recumbent bike, lifting dumbbells or stretching resistance bands, they were right there to monitor her progress and to make sure she cooled down at the end of each session. They motivated her and kept her safe. They were the cheerleaders she needed.
"They're very, very conscientious…very concerned about each of us," Tennerman says. "They're constantly aware of where your heart rate is, if you could go faster to get your heart rate up, if you needed to slow down.
"They're all tuned in. They get you engaged and make it fun."
Mary Ann Majewski, a charge nurse of cardiopulmonary rehabilitation programs at Advocate Condell Medical Center, says she and her team knows when to push and when to let up.
"We help our patients build strength and stamina and rebuild their confidence so they can exercise safely without having another cardiac event," says Majewski, whose team consists of nurses, exercise specialists, exercise physiologists and a dietitian.
Cardiac rehab classes
After receiving a physician referral and a 45-to-60 minute orientation, patients select a morning or afternoon class time. At Condell, four classes meet in the morning and three in the afternoon. Each class lasts about an hour, with a 30-minute education session once a week before or after class. The program consists of three classes a week for 12 weeks, tailored to each patient's specific needs and physical capabilities.
Education sessions focus on a variety of topics including stress management, healthy eating and improvement of blood pressure, heart rate and glucose tolerance. While boosting their cardiovascular fitness level, patients are encouraged to make positive lifestyle changes to enhance their quality of life. They also foster relationships with and support other patients in the program.
Patients who benefit from the program include those who have had coronary artery bypass surgery, valve repair or replacement surgery, a heart transplant, an interventional coronary procedure, angina, heart attack or heart failure.
Knowledge is power
Patients don't wait until the weekly education session if they have questions. They ask them all the time, Majewski says, and her team is ready with answers. By the time their 12 weeks draws to a close, the patients are family.
"It's a bittersweet day when they leave," Majewski says. "We're happy that we've helped them rebuild their confidence, but we know we're going to miss them. It's a joy when they come back to tell us they're controlling their blood pressure, they're eating right, they're continuing to exercise. We love to hear that."
For Tennerman, 69, walking and other physical activities always have been an important part of her life. But after cardiac rehab, she's an even bigger believer in the power of exercise.
"I wish more seniors would realize even a little bit of exercise is better than none," she says. "Sitting in front of the TV day after day, that's the worst thing they can do. If they could just get up and move their buns, even at home, that would be so good for them."
Click here to watch a video with Pat Tennerman.
Do you know your risk for heart disease? Take Advocate Heart Institute's heart risk assessment here. If you are at high risk, see one an Advocate cardiologist within 24 hours.
Related Posts
Comments
About the Author
Kathleen Troher, health enews contributor, is manager of public affairs and marketing at Advocate Good Sheperd Hospital in Barrington. She has more than 20 years of journalism experience, with her primary focus in the newspaper and magazine industry. Kathleen graduated from Columbia College in Chicago, earning her degree in journalism with an emphasis on science writing and broadcasting. She loves to travel with her husband, Ross. They share their home with a sweet Samoyed named Maggie.