Movin' and Improvin': Our journey to get fit by 40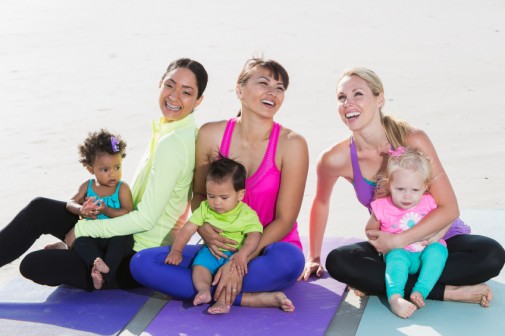 Women, especially women caretakers, frequently put their own health and well-being on the bottom of endless long to-do lists. Pushing it off until so and so is better, my babies have grown up, etc.  Loralie and I are no different. Busy work-at-home moms who let their own health and wellness slide to raise children, take care of a home and family and build a business.  We have recently partnered with Advocate Condell Centre Club to change that – to make small incremental steps towards better health, and share our journey.
We will be documenting the journey to get Movin' and Improvin' and be fit by 40 here on the health enews blog and our social media.
Here is some background about us:
Melissa is the "Mom-in-Chief" and creator of Little Lake County, a website for parents about living in Lake County.   As a busy entrepreneur and WAHM to four children including a toddler, she struggles with finding time and taking care of herself.  A former college soccer player and an aspiring marathoner, her fitness goals have been sidelined by injury, pregnancy, and the demands of motherhood and a growing business. Recently diagnosed with high cholesterol, she seeks to lower it through proper nutrition and exercise.
Melissa's Goals are:
More energy and better sleep
Be able to keep up with a very active toddler
Be able to hold a 32 lb. toddler through the entire Sunday church service
Carry a tantrum toddler in one arm
Lower cholesterol, goal is 30 points
Be comfortable in her own skin
Loralie is Little Lake County's Marketing Director and Features Editor, she is one of the 78.6 Million American adults who are obese (according to CDC).  In Illinois, 28.2% of adults are obese.  Her weight struggles are echoed by many struggling with post-baby weight and the added stressor of raising young children.  Loralie's weight issues gained national attention in 2007 when she participated in the ABC reality series, Fat March.  Like so many, her weight has been a life-long struggle and she is seeking to regain her health and fitness and get "Fit by 40."
Loralie's Goals are:
Go rock wall climbing with her daughter and play soccer with her son
Alleviate arthritis in her knee
Alleviate stress through exercise
Lead an overall active lifestyle incorporating regular gym workouts
Avoid family history of Type 2 diabetes and high blood pressure
Set a healthy example for her kids
We hope you will follow us on our journey and see how we transform and make small changes to get Fit by 40. You can join in by sharing snapshots of your journey on Facebook and Instagram with the hashtag #LLCMoves and #Fitby40, and if you see us at the Advocate Condell Centre Clubs, give a high-five!
Related Posts
Comments
About the Author
Melissa Haak is mom to four. She used to live in heels and dream of traveling the world; now she lives in her minivan and dreams of a clean kitchen. She writes about all the sticky bits of motherhood at Peanut Butter in my Hair and is the creator and editor of Little Lake County. She can be found on most social media sites as @PBinmyHair.