Articles by "Melissa Haak"
Melissa Haak is mom to four. She used to live in heels and dream of traveling the world; now she lives in her minivan and dreams of a clean kitchen. She writes about all the sticky bits of motherhood at Peanut Butter in my Hair and is the creator and editor of Little Lake County. She can be found on most social media sites as @PBinmyHair.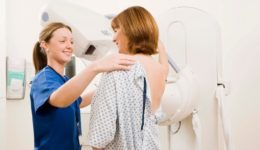 Was it convenient? Was there pain? One woman's take on her experience getting screened for breast cancer.