Get your picky eater to give in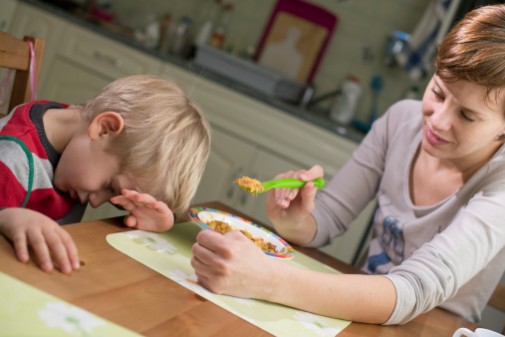 Imagine setting the table for a lovely evening meal. You place the tangy honey-glazed ham, black bean turkey chili, garlic mashed potatoes, vegetable medley and… microwaved chicken nuggets.
This is a very common theme for parents with picky eaters for children. While to many it might not matter, can anything be done to encourage the palate development of the littlest eaters at the table?
"A lot of kids choose to eat by the look of food," says Dr. Kristen Cosgrove-Counts, a family medicine physician at Advocate Dreyer in Aurora, Ill. "There are things that can be done to make children more willing to try new foods. It really starts with the parents, and they have to be consistent with getting a child to try new food."
Dr. Cosgrove-Counts offers a few ideas on how to enhance a child's eating habits:
Involve kids in the planning and preparation of meals. This can start with purchasing food – whether this is at the grocery store, farm stand or picking it out of your own garden. Letting kids help with any age appropriate preparation of the meal can help make them excited to try what they have helped prepare.
Set a good example. Be willing to try new foods with your child, and of course eat your own veggies.
If your child doesn't like a food, don't eliminate it from the menu forever. Keep trying! Kids' palates change as they get older. A food they used to despise could grow to be a favorite as they mature.
Talk to your kids about the benefits of their foods. Are they an athlete? Explain how a healthy diet makes them stronger, faster, etc. Are they a motivated student? Remind them that healthy foods keep them ready to learn and succeed.
Encourage kids to "eat a rainbow". This makes it fun for them and helps establish variety in their fruit and veggie intake naturally.
Kids love to dip foods. If they are hesitating to try a food, offer a sauce to dip it in. A familiar sauce (like ranch or ketchup) may make a new food a child is hesitant to try less intimidating.
For holiday meals, there are likely some new foods to be introduced. If your family has foods that are part of your cultural tradition, teach your kids about them and why they are a part of the meal. Involving them in the preparation of these foods is a great way to pass these traditions on so they can be continued for generations to come.
When serving a child at a holiday meal it might not be as easy to take these steps. In that case, Dr. Cosgrove-Counts suggests that you make an attempt to introduce the food that will be served at dinner for a particular holiday before the actual holiday, when possible.
"If you can familiarize them with the food before the actual event, the chances are greater for them to eat the food than if you are introducing it for the first time that night," she says.
Follow these tips and hopefully the next time you are serving either a routine family dinner or a special holiday meal, you can all enjoy it together… without the microwaved nuggets.
Related Posts
Comments
About the Author
health enews staff is a group of experienced writers from our Advocate Aurora Health sites, which also includes freelance or intern writers.