Breakthrough 'cold cap' designed to reduce hair loss during chemo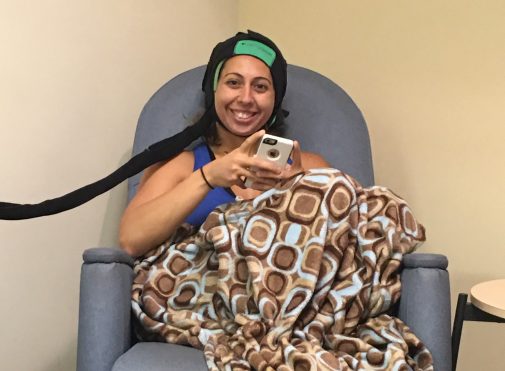 At the age of 35, Amy Sciortino is halfway through her chemotherapy treatment for breast cancer. The eight treatments every two weeks are all too familiar. Amy's mother is a breast cancer survivor, and she also lost an aunt to the disease.
But, unlike many others receiving chemotherapy, Amy may not lose all of her hair. Balding can be one of the most frustrating side effects associated with chemotherapy. Instead, Amy is trying a scalp cooling system recently approved by the Food and Drug Administration.
Called a "cold cap," it is placed on Amy's head during her chemotherapy treatments at the Cancer Center at Advocate Lutheran General Hospital in Park Ridge, Ill. The head gear looks a bit like a swimming cap. It is filled with a gel that is chilled to between -15 and -40 degrees Fahrenheit. The cold narrows Amy's blood vessels and keeps some of the chemotherapy from reaching her hair follicles. Because there is less chemo medicine in the follicles, her hair is less likely to fall out.
"It's not the most comfortable thing to have on your head for five to six hours straight," says Amy. "At first it was overwhelming, just because I didn't know what to expect. But, it has gotten easier. I can take it if it leaves hair on my head."
So far, after four treatments, it seems to be working.
"I've always worn my hair in a ponytail, and after four treatments, I am still doing that," says Amy. "While I have lost some hair on the crown of my head, it is easily covered.  People who see me have no idea what I am going through just by looking at me."
"Hair loss from chemotherapy can make women feel very self-conscious," says Dr. Sigrun Hallmeyer, an oncologist at Lutheran General. "For many patients, losing all of their hair so quickly is devastating. It adds the additional worry of trying to find a wig that makes them comfortable."
For Amy, it was very important for her to keep as much of her hair as possible.
"I think it has made a difference in how I have felt throughout the process so far," says Amy. "It makes me feel like I am not sick. When I look in the mirror, I still see my regular self."
The cold cap works only on select types of chemotherapy and costs $350 per treatment. It is not yet covered by insurance.
"If you can do it, I recommend it," adds Amy. "It is definitely worth a shot. If you find it is not working, you can stop. But it has certainly made me feel better about myself during this whole ordeal."
Related Posts
Comments
About the Author
Evonne Woloshyn, health enews contributor, is director of public affairs at Advocate Children's Hospital. Evonne began her career as an anchor and reporter in broadcast news. Over the past 20 years, she has worked in health care marketing in both Ohio and Illinois. Evonne loves to travel, spend time with family and is an avid Pittsburgh Steelers fan!