The mysterious neurological condition that suddenly paralyzed Cleveland pitcher's father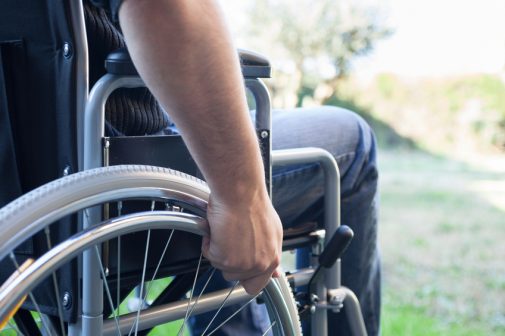 If you watched the World Series, you've likely heard of Cleveland Indians pitcher Josh Tomlin. He pitched two games in the World Series, but he has been facing a far bigger personal challenge off the baseball diamond. In August, at the age of 57, his father Jerry suffered the sudden onset of a neurological condition that has left him paralyzed from the chest down. Just days after leaving the hospital, Tomlin watched his son pitch in baseball's biggest series, sitting in a wheelchair in the stands at Wrigley Field.
The condition is an arteriovenous malformation of the spine. It occurs when blood vessels become tangled near the spinal cord. The tangled vessels disrupt the flow of blood to the spine. Instead of traveling from arteries through capillaries to veins, the blood is forced to bypass capillaries which routinely carry oxygen to the spine. If spine tissue is starved of oxygen, it will deteriorate or die.
"There can be no symptoms; it can just be a sudden catastrophic event," says Dr. Jerry Bauer, a neurosurgeon at Advocate Lutheran General Hospital in Park Ridge, Ill. "While surgery can treat the condition, there is no cure once the damage has been done."
In Tomlin's case, onset was sudden. While working at a power plant in Texas, he felt a burning sensation in his stomach. What immediately followed was a numbness that went from his chest to his toes.
"There is no way to know if someone is predisposed to have this condition or to predict it will occur," says Dr. Bauer. "It's just important to act quickly and get medical help should you notice unexplained either sudden or progressive neurological issues."
Among the symptoms are:
Difficulty walking or climbing up stairs
Numbness or weakness on one or both sides of the body
Sudden pain in the legs
As the condition progresses, symptoms can include:
Lack of feeling in legs
Headache and light sensitivity
Stiff neck
Trouble urinating or moving bowels
Medical experts do not know what causes the condition, nor its risk factors. And, there is no cure once the damage has been done to the spine.
Tomlin did have surgery to treat the condition. And some patients do benefit from rehabilitation. health enews will keep an eye on his prognosis.
Related Posts
Comments
About the Author
Evonne Woloshyn, health enews contributor, is director of public affairs at Advocate Children's Hospital. Evonne began her career as an anchor and reporter in broadcast news. Over the past 20 years, she has worked in health care marketing in both Ohio and Illinois. Evonne loves to travel, spend time with family and is an avid Pittsburgh Steelers fan!