Is hot sauce good for your health?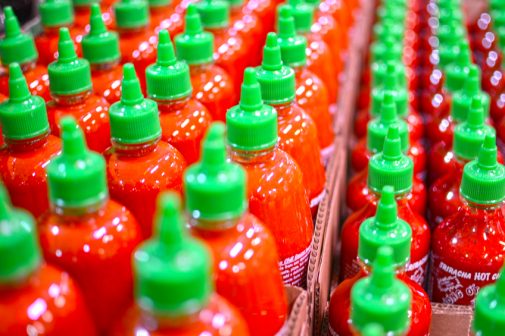 Hot sauce fanatics: you just might be on to something.
Somewhere between smothering your scrambled eggs in Sriracha and coating your chicken wings in Frank's, you may have been wondering–does slathering your food in hot sauce have health benefits?
Across the board, research has indicated that the "fire in the hole"-causing condiment can potentially do your body good, but experts caution against overdoing it.
A study out of Purdue University found that hot peppers assist in curbing appetite by decreasing a desire for fatty, salty and sweet foods, and Japanese researchers determined that consumption of chili peppers can help burn fat cells.
Chili peppers contain antioxidants, vitamins and capsaicin, an active ingredient present in large amounts in the pepper's placental tissue, where the seeds are held. Other research suggests that capsaicin triggers apoptosis, or cell suicide, which encourages turnover of damaged cells and creation of new cells. Years ago, a study examining prostate cancer cell growth in mice pointed to a slowing in cancer cell growth by up to 80 percent when the mice were given high doses of capsaicin.
Other potential health benefits of consuming peppers include pain relief, weight loss and a lower risk of diabetes, not to mention the nutritional benefits; just one ounce of jalapeno peppers contains 40 milligrams of Vitamin C, nearly as much as in one orange.
But what does all this mean?
According to Dr. Yasser Said, a hospitalist at Advocate Christ Medical Center in Oak Lawn, Ill., there isn't enough evidence to begin making broad recommendations for patients to consume hot sauce.
"While there are promising preliminary results based on the antioxidant effects of peppers, it's premature to make a blanket recommendation," he says.
Frequent consumption of spicy food can lead to gastrointestinal problems, such as gastritis, gastroesophageal reflux disease, loose stools and ulcers, which is why Dr. Said recommends that you avoid consuming spicy foods at the same time as taking medicines that impact the GI system, such as NSAID paid relievers. "Be careful not to consume any other irritants at the same time, especially alcohol," he adds.
Make sure you are checking the labels on your favorite hot sauces, as unhealthy ingredients may be lurking. Some popular brands contain large amounts of added sugar, while others have high sodium levels.
While Dr. Said isn't going to start writing prescriptions for hot sauce, he doesn't think those who enjoy it need to put the bottle down.
"I love spicy foods and have a high tolerance for them. I frequently eat raw peppers with salads or meat," he says.
But if you can't take the heat, don't sweat it.
"If you have a low tolerance for spicy foods, you should avoid them. The research on hot sauce benefits is too preliminary to suggest consuming it if you don't tolerate it well," says Dr. Said.
Related Posts
Comments
About the Author
Holly Brenza, health enews contributor, is a public affairs coordinator on the content team at Advocate Health Care and Aurora Health Care. She is a graduate of the University of Illinois at Chicago. In her free time, Holly enjoys reading, watching the White Sox and Blackhawks, playing with her dog, Bear and running her cats' Instagram account, @strangefurthings.