How big a risk do Advil and Aleve pose for your heart?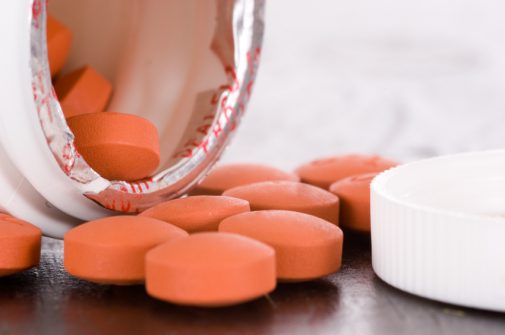 Suffering from joint pain or a headache? Thinking of taking Advil or Aleve for relief?
Using prescription strength ibuprofen (Advil), naproxen (Aleve) and other non-steroidal anti-inflammatory drugs known as NSAIDs may raise the risk of heart failure, according to a recent study.
Researchers from the University of Milano-Bicocca in Italy compared data from more than 10 million NSAID users in the Netherlands, Italy, Germany and the UK. They studied 27 different types of NSAIDs and found that people currently using one of the painkillers were 19 percent more likely to be hospitalized for heart failure than those who had used the drugs in the past. In particular, ibuprofen, naproxen, diclofenac, indomethacin, ketorolac, nimesulide and piroxicam were correlated with higher risk of heart problems, and the higher the dose, the higher the risk.
"Our findings — which focused only on prescription NSAIDs – might apply to over-the-counter NSAIDs as well," said study author Andrea Arfe in a news release. "Although over-the-counter NSAIDs are typically used at lower doses and for shorter durations, they are sometimes available at the same doses as prescription NSAIDs, and they may be inappropriately overused."
Dr. Alan Brown, director of the division of cardiology at Advocate Heart Institute at Lutheran General Hospital in Park Ridge, Ill., says doctors have been concerned for some time about the impact of NSAIDs on the heart, but even if it's not new information, it's extremely important information. He advises:
If you need to take NSAIDs for an injury or joint issue, keep an eye on your blood pressure and take as few as possible for as little amount of time as possible.
If you are someone who has a tendency to retain fluid, or has high blood pressure, heart failure or kidney disease, use NSAIDs with great caution and only in consultation with your doctor.
Tylenol is a good alternative to NSAIDs.
"Always consult your physician if you have pain requiring any long-term use of an over-the-counter drug," Dr. Brown says.
Related Posts
Comments
About the Author
Adam Mesirow, health enews managing editor, is media relations director of Advocate Aurora Health. Securing high-profile media placements for more than a decade, he loves to tell a good story. Adam earned a Bachelor's degree in Public Policy from the University of Michigan. He lives in Chicago and enjoys playing sports, reading TIME magazine and a little nonsense now and then.