Help! Why do I still have acne?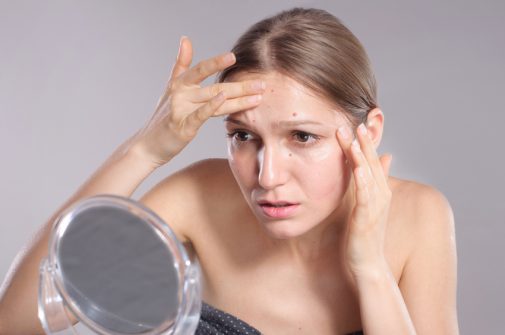 Everyone looks forward to outgrowing the awkward teenage years of constant body changes, clumsiness and acne. But for many men and women, acne remains a persistent problem even in their adult years.
According to the American Academy of Dermatology, 50 percent of women 20 – 29 years old experience acne, and 25 percent of women 40 – 49 are still affected.
"More women suffer from acne due to hormones, especially during peri-menopausal changes in their 30s and 40s," says Dr. Martha Arroyo, an Advocate Physician Partners dermatologist with Advocate Condell Medical Center in Libertyville, Ill. "When hormones are the culprit, acne often shows up on the jawline and chin area, as opposed to rosacea (commonly confused for acne), which is more central on the face."
Dr. Arroyo says the main causes of acne in adults are:
Hormonal fluctuations – both natural and introduced through drugs such as anabolic steroids
Cystic acne that wasn't treated well in adolescence
A family history of acne
Athletes with increased sweating and blocked pores
"The best way to combat acne is to wash your face twice daily with washes including gentle exfoliants like alpha-hydroxy acids and antibacterial properties such as benzoyl peroxide," says Dr. Arroyo. "Women may also need to use a prescribed birth control or anti-testosterone drug to help regulate the hormonal changes."
She urges people to seek medical attention if:
You feel overwhelmed
You have tried several treatments and are still experiencing problems
Your acne covers large areas such as chest, back and face
For some people, acne can be a symptom of other problems. Polcystic Ovary Syndrome (PCOS) is a disorder in women which increases testosterone. This imbalance can cause acne, facial and body hair, weight gain, and other metabolic issues. If you notice the presence of these symptoms, you should seek medical advice.
Finally, acne is sometimes a common side effect of certain drugs, Dr. Arroyo explains. Men with low testosterone or low libido are often prescribed testosterone gels, but acne can be a sign that you are using too much of those gels. Another drug that can cause acne is oral prednisone.
No matter what your acne situation looks like, Dr. Arroyo emphasizes that most adult acne is treatable.
Related Posts
Comments
About the Author
health enews staff is a group of experienced writers from our Advocate Aurora Health sites, which also includes freelance or intern writers.