Is your phone giving you wrinkles?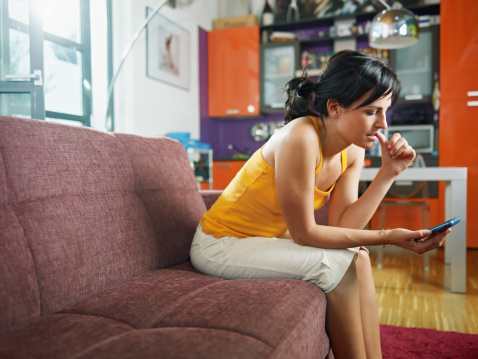 Smartphones have been blamed for countless problems over the years. Many say they are taking over people's lives and becoming a new best friend for children. They can cause physical problems like eye strain and psychological issues like high stress or anxiety. But there's another thing to add to the list of phone woes: wrinkles.
It turns out that constantly bending your neck to stare at your phone screen can lead to something people are calling "tech-neck." The term trademarked by a beauty brand refers to the lines and wrinkles on ones' neck caused by repeatedly bending your neck to stare at your phone screen. The common act can lead to loose skin and creases above your clavicle.
"The strain caused by having your head tilted can lead to inflammation of soft tissue, muscles and joints in the neck," says Dr. Michael Jude Welsch, a dermatologist with Advocate Christ Medical Center in Oak Lawn, Ill. "But it seems reasonable that if the skin is folded in a certain way, it could lead to more prominent lines."
The tech neck crease is found mostly in people between the ages of 18 and 39, who on average have three devices and look at those screens up to 150 times a day, according to media reports.
So what can you do?
Dr. Welsch recommends core exercises to strengthen neck muscles as well as good posture. He also says it's important to wear daily sunscreen that is SPF 30 or higher to reduce premature wrinkling. Your neck, like your face, is exposed to the sun more often than other parts of your body. But often, people remember to protect their face with sunscreen and are less inclined to lather up their neck.
Finally, if you are still unhappy with your neck, there are cosmetic procedures like lasers for photorejuvenation, s-lifts for sagging skin and a number of topical products to improve the appearance of wrinkles.
Related Posts
Comments
About the Author
Jacqueline Hughes is a former manager, media relations at Advocate Aurora Health. Previously, she was the public affairs and marketing manager at Advocate Lutheran General Hospital in Park Ridge, IL. She earned her BA in psychology at Stanford University in Palo Alto, California. Jackie has 10 plus years experience working in television and media and most recently worked at NBC 5 in Chicago. In her free time, she enjoys swimming, going to the movies and spending time with her family.