Articles by "Sara Dumich"
Sara Dumich, MD is an Advocate Medical Group physician specializing in sports medicine. She currently practices in Bloomington-Normal where she also serves as a team physician for Illinois State Athletics. Dr. Dumich is a former collegiate gymnast and last fall completed her first IronMan triathlon.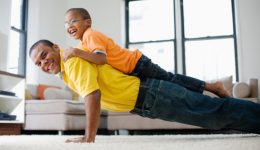 Distractions like cell phones and video games may be keeping you and your kids sedentary. Learn what you can do.
It's easy to skip the gym or an outdoor run when the temps are chilly. Try these tips to stay fit in the cold.