This food may help you live longer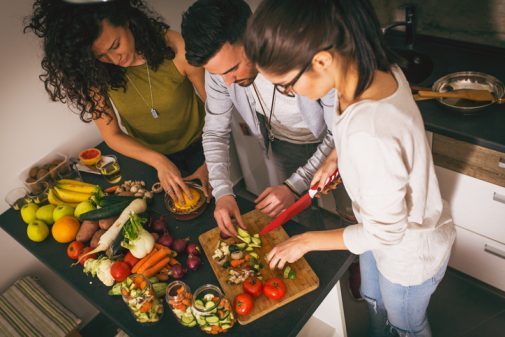 Craving cayenne? Hankering for habanero? Desperately seeking Sriracha?
If so, you may be adding years to your life. People who spice things up at the meal table live significantly longer, according to a study from the University of Vermont.
Researchers collected data from more than 16,000 Americans who were followed for up to 23 years and compared the health of people who did or didn't consume chili peppers, and how often they consumed them.
They found that consumption of hot red chili peppers was associated with a 13 percent dip in total mortality rate. A significant reduction in heart disease and stroke resulting in death was a primary cause of this drop.
Results revealed participants most likely to eat peppers were "younger, male, white, Mexican-American, married and smoked cigarettes, drank alcohol and consumed more vegetables and meats." Additionally, they also had lower HDL-cholesterol (good cholesterol), lower income and less education compared to others in the study group.
"We've known for many years that chili peppers have certain properties that can be used in health and wellness, such as relieving pain and reducing swelling," says Dr. Sanjeev Joshi, an Advocate Medical Group internal medicine physician on staff at Advocate South Suburban Hospital in Hazel Crest, Ill. "But, this new study really puts into focus the potential power of chilies, even in those people with significant health risk factors such as smoking and alcohol use."
The report's researchers pose some possible explanations for the peppers' health benefits, including the fact that capsaicin, the oil that makes peppers hot, is believed to play a chemical role in preventing obesity and increasing blood flow.
Dr. Joshi says that chilies are rich in vitamins C and A and provide a significant amount of potassium, manganese, iron and magnesium. Chilies also contain a relatively high amount of B vitamins and no cholesterol.
"Overall, chilies are a very healthy food," he says. "And, in light of these new findings, we might start thinking about actively recommending adding hot chilies to people's diets as part of a nutritious eating plan."
Related Posts
Comments
About the Author
Nate Llewellyn, health enews contributor, is a manager of public affairs at Advocate Medical Group. Nate began his career as a journalist and builds daily on his nearly 20 years of writing experience. He spends most of his free time following his wife to their two sons' various activities.