Does using this fashion accessory signal a risk for heart disease?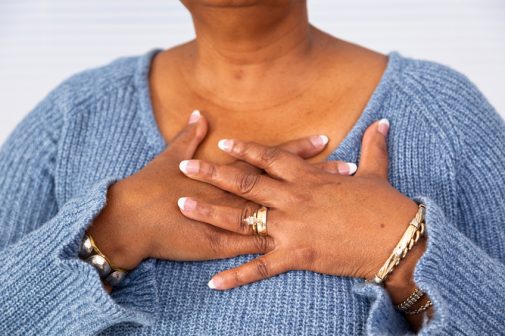 There's no doubt that hand fans are making a fashion comeback. From European runways to night clubs in the Windy City, it's common to see women of all ages catching a breeze with a flick of her wrist.
But could the return of this Victorian-aged accessory signal more than a growing fashion trend? A recent study suggests this may be the case.
After following 274 non-smoking women between the ages of 40 and 60 years old, researchers found that younger women who experience frequent hot flashes may be at higher risk for developing cardiovascular disease down the line. More specifically, the study found a potential link between multiple hot flashes throughout the night and day and poor functioning of the layer of cells lining blood vessels in women 40 to 53 years old.
"This study offers valuable insight into the differences of cardiovascular physiology between men and women. It may ultimately help provide newer avenues of early detection and treatment of cardiovascular disease in women," says Dr. Imran Ali, a cardiologist at Advocate Trinity Hospital in Chicago.
The effective functioning of blood vessel linings, which expand and contract to pump blood from the heart to the brain and throughout the body, is a key factor used to predict a cardiovascular condition known as atherosclerosis. If left untreated, atherosclerosis can lead to stroke, heart attack or heart failure.
"Women don't necessarily experience the same warning signs as men when it comes to cardiovascular disease. This study potentially identifies harder-to-miss warning signals that can prompt younger women to pay attention to their heart health and seek treatment before a cardiac episode occurs," Dr. Ali says. He adds that heart disease — sometimes called the silent killer — is the leading cause of death among women over 40 years old.
Women who experience hot flashes between the ages of 54 to 60 do not carry the same risk for cardiovascular disease, the study found.
Dr. Ali advises women of all ages to exercise regularly and follow a heart-healthy diet, regardless of their immediate risk for cardiovascular disease. He also recommends that "super-flashers" – or younger women who experience up to a dozen hot flashes a day – be screened regularly for heart disease.
Related Posts
Comments
About the Author
Cassie Richardson, health enews contributor, is regional coordinator on the Public Affairs team for Advocate Health Care and Aurora Health Care. She has more than 10 years of experience in health care communications, marketing, media and public relations. Cassie is a fan of musical theater and movies. When she's not spreading the word about health and wellness advancements, she enjoys writing fiction.