27 contact lenses found in woman's eye: Here's what you need to know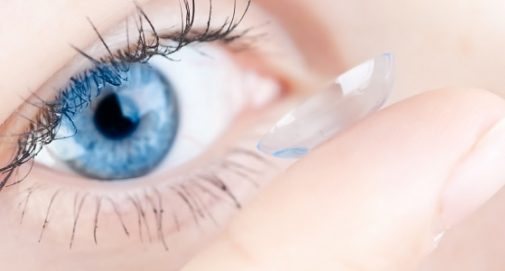 If you're a regular contact wearer, you've probably had a contact get stuck in your eye at one point or another. Maybe you're wondering how this could even happen?
Recently, UK surgeons found 27 contact lenses stuck in the eye of a 67-year-old patient as they were prepping her for cataract surgery. The surgeons found the lenses after noticing a "blueish mass" in the patient's eye. After talking with the patient, they discovered she had been using monthly disposable contacts but hadn't been visiting the eye doctor regularly. She hadn't noticed the contacts were stuck in her eye and thought her eye discomfort was merely a result of old age.
This story is a great reminder that regular eye-care visits are necessary and important. Furthermore, knowing how to remove a stuck contact lens safely from your eye can be a beneficial skill. Dr. Shivan Tekwani, an ophthalmologist at Advocate Christ Medical Center in Oak Lawn, Ill. shares some tips on how to know if a contact is stuck in your eye and best practices to remove the lens safely.
Symptoms a contact may be stuck in your eye:
Redness or bloodshot eye
Excessive tearing
Excessive blinking
Pain when you look at light
If the vision is clear, not blurry, the contact lens is likely still in position
Tips for removing a stuck contact:
Look in the opposite direction of where the lens is stuck. If you think the lens is stuck near the bottom of your eye, look up. If you can't see the lens, there's a possibility the lens has fallen out. You can also pull the eyelids up or down to look around the eye for the lens.
Apply saline solution to the lens. Lenses often get stuck because they have dried out. The saline solution can also help move the lens back to the center of your eye if it's out of place.
If you think the lens is stuck under your eyelid, close your eye and massage your eyelid softly and carefully with your fingertip. It is easier and safer to remove a contact lens if you can massage it to the bottom of your eye rather than the top. If you wear hard contacts, do not try this tip as the lens could scratch your eye.
If you wear hard contacts, you can also try using a suction cup tool. This tool can typically be found in drug stores and will help remove the lens. It's important to see an eye-care professional before using this technique, as you could accidentally harm your eye if done incorrectly.
If you're unsure if a lens might be stuck, can't get a stuck lens out or don't know how to properly remove a lens, make sure to visit your eye doctor and ask them for help. It's always better to be safe than sorry.
Dr. Tekwani wants to remind you to visit your eye doctor regularly and to practice good lens hygiene such as not touching your eyes without washing your hands first, cleaning your lenses regularly and keeping your eyes lubricated.
Related Posts
Comments
About the Author
health enews staff is a group of experienced writers from our Advocate Health Care and Aurora Health Care sites, which also includes freelance or intern writers.