This cancer is on the rise, and women are at risk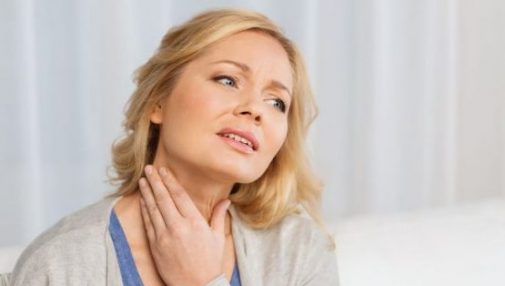 Fall awareness months for prostate and breast cancer serve as good reminders that regular screenings and physician check-ups are key to catching many cancers.
With thyroid cancer having doubled since the 1970s – especially in women – it's important to get the facts of this lesser known illness.
The good news, per experts, is that thyroid cancer is primarily on the rise due to better early detection, and that the less aggressive papillary thyroid cancer is the one growing in numbers.
One nurse, Katie Keenon at Advocate Sherman Hospital in Elgin, Ill., experienced this firsthand in July of 2015 while getting a physical for symptoms she thought were diabetic.
Marla Bagge, a nurse practitioner, decided to use caution and had Keenon tested for thyroid issues because she felt a lump, but the labs all came back normal. Because of this, Katie was going to cancel her thyroid ultrasound; however, her nurse practitioner was not satisfied and pushed for an ultrasound.
The ultrasound found a large mass in her thyroid, which was a huge shock at the age of 30. Dr. Wendell Malalis, an endocrinologist at Advocate Sherman, confirmed it was cancer after Keenon's biopsy.
"Obviously, not what I was hoping for," shares Keenon. "I needed a total thyroidectomy as soon as possible because it was on both sides. This news came two days before a Disney vacation with my family."
However, Keenon reached out to her colleagues to help her set up appointments for when she returned from vacation. On September 29, she had her surgery at Advocate Sherman.
"As a nurse, I am aware of the care we give our patients," Keenon says. "But to be on the receiving end was an amazing experience… to see how well the team updated my husband on the procedure, the safe practices and the love and support they provided."
Keenon now needs to take a thyroid medication for life. It takes time to get the levels and dosage correct, affecting hormones for the duration of the adjustment period.
In October, Keenon needed radioactive iodine treatment. This treatment was difficult as she had to have a low iodine diet and had to be in seclusion for a week. Anything she touched or wore had to be cleaned because she secreted the radioactive iodine through her skin.
Keenon advises to be aware of thyroid cancer symptoms. Primary symptoms include:
A lump in your neck. Check your neck periodically for lumps that might appear. Most dental offices check for thyroid cancer during your regular check-up.
Trouble swallowing
Voice changes
Trouble speaking, eating or breathing. This seems to happen when the cancer is more advanced.
Keenon felt hot, tired all the time, forgetful, jittery and experienced mood changes and unexplained weight gain. Other thyroid issues  may include irregular periods and constipation.
Alhough still cancer and a life-changing experience, the odds of beating and surviving thyroid cancer are very good. Currently, the five-year survival rate for stage I and stage II papillary or follicular thyroid is nearly 100%.
Related Posts
Comments
About the Author
Jennifer Benson, health enews contributor, is coordinator of public affairs for Advocate Aurora Health. She has 10+ years of community development and communication experience for non-profits and has a BA in Architecture from Judson University in Elgin, IL. Outside of work, you can find her planning the next adventure near water or rocks, re-organizing spaces, working on her Master's in Public Health, caring for her senior citizen cat, keeping to healthy moving and eating disciplines and growing green things wherever she can find room.