This type of cancer can be stopped when caught early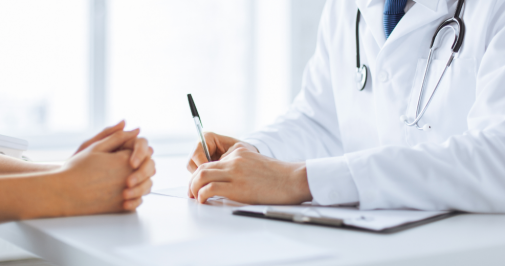 Colon cancer is the third most commonly diagnosed cancer in men and women, according to the American Cancer Society (ACS). That's no surprise to Dr. Andrew Albert, gastroenterologist and medical director of digestive health at Advocate Illinois Masonic Medical Center in Chicago.
Dr. Albert has long been spreading a simple message: Colon cancer can be prevented 95 percent of the time if caught early enough, before polyps turn cancerous. That's why the digestive health team started a program to help increase access to screening, the Direct Access Screening Colonoscopy (DASC), which reduced wait times, increased access and provided a fully guided, coordinated experience.
"What makes DASC unique is our approach to something often met with fear and apprehension," says Dr. Albert. We 'hold the patient's hand' throughout the entire process. This also creates a safer practice environment as patients are screened more thoroughly prior to the procedure, minimizing the chance of an adverse outcome."
Illinois Masonic has led the way in the state and the nation in the American Cancer Society's quest to achieve "80% by 2018" – screening 80 percent of eligible adults for colon cancer by 2018. Now, the Illinois Masonic team aims not only to improve upon their initial success but to help and learn from others, as well.
That's why Dr. Albert was honored to be welcomed as a speaker at the National Colorectal Cancer Roundtable's annual meeting this month, where he shared how far the digestive health program has come.
After just one year with the new program, the colorectal cancer screening rate for those 50 – 65 years of age rose 29 percent, resulting in a 59 percent screening rate, and the rate for those aged 65 and older rose 25 percent, resulting in a 69 percent screening rate.
All of these incredible efforts earned the Illinois Masonic team the National Colorectal Cancer Roundtable's 2017 Grand Prize, a hallmark achievement for the program, the hospital and the passionate physicians and health care providers who made it happen. Dr. Albert and colleagues accepted the award in March 2017 in New York City, where they had the great opportunity to meet others making an impact in their communities.
And, of course, they're not done yet.
Dr. Albert estimates the Illinois Masonic screening rate is close to 70 percent now for both age groups, and the team continues to find new, innovative ways to spread their message. Dr. Albert even started an international social media movement, #BackOffColonCancer, to make people all around the world aware of the importance of screening.
"In the past, doctors practiced in silos," says Dr. Albert. "Now, we practice in a multi-disciplinary world involving even those outside of medicine, including the American Cancer Society. We can practice medicine smarter; we can practice better."
The ACS recommends that men and women at average risk for colorectal cancer should get a colonoscopy every 10 years starting at the age of 50, while people at higher risk may need to start earlier or get tested more frequently.
You could be at risk if you have a personal or familial history of colorectal cancer or polyps or a personal history of inflammatory bowel disease.
To learn more about your potential risk, take our take our Colorectal Health Assessment.
Click here to find out more about colorectal cancer, screening guidelines and the Direct Access Screening Colonoscopy Program.
Related Posts
Comments
About the Author
health enews staff is a group of experienced writers from our Advocate Health Care and Aurora Health Care sites, which also includes freelance or intern writers.