What can you learn about yourself by looking at Trump's health?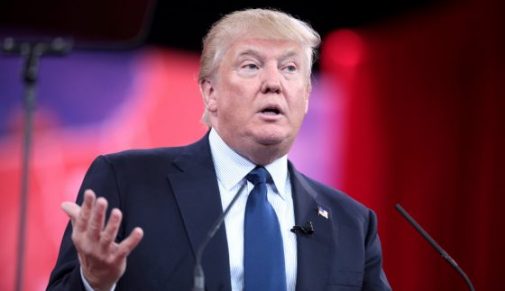 When President Donald Trump underwent his annual physical earlier this year, the doctor who examined him had a few recommendations, including these two: get more exercise and eat more nutritious food.
"The president acknowledged he'd be healthier if he lost a few pounds," Dr. Ronny L. Jackson, a rear admiral and the White House physician, told the media at a press briefing. He added that Trump would benefit from a regular exercise routine and a diet that's lower in fat.
Sound familiar?
Every day, physicians across the U.S. are doling out to their patients the same recommendations Trump heard from his doctor.
"Life is so busy. Daily, I see patients whose health and nutrition is being sacrificed to keep up with work and family obligations," says Dr. Anthony Weston, a family medicine physician at Advocate Good Shepherd Hospital in Barrington, Ill.
"Behavior change is hard, and we can't expect it to change overnight. So I recommend patients set realistic, achievable, measurable goals with respect to physical activity and reset those goals periodically. While 150 minutes of exercise weekly is advised, start with 15 minutes two times a week, for example, and go from there."
Based on information provided at the press briefing about Trump's health, the average Joe has a lot in common with this country's 45th president. At a reported 239 pounds and 6 feet 3 inches, Trump, 71, has a body mass index (BMI) of 29.9. People with a BMI between 25 and 29.9 fall within the "overweight" range, while those at 30 or above are considered obese. Trump's 29.9 BMI places him at the doorstep of obesity.
By that measure, he is like millions of Americans. Almost 71 percent are overweight or obese, according to the National Center for Health Statistics. Of those, 36 percent are obese.
Trump also is like millions of Americans in that he takes a statin to lower his cholesterol. His low-density lipoprotein (LDL), or bad cholesterol, is 143, which is above the optimal level of less than 100.
Trump takes a low dose of the statin Crestor, but his doctor recommended increasing it, saying he suspects when the dose increases, Trump's LDL will decrease. About 73 million American adults have high levels of LDL, according to government statistics, and more than 1 in 5 Americans between the ages of 40 and 75 take statins.
Trump has no evidence of diabetes, and his blood sugar level is healthy, according to his doctor. But in an effort to help Trump lose some weight, his doctor suggested that a nutritionist consult with White House chefs. Here, too, Trump is like millions of American adults. The Centers for Disease Control and Prevention reports that only 1 in 10 eat a healthy amount of fruits and vegetables.
For people with busy lifestyles, Dr. Weston says the key is encouraging them to make the right choices. These are among his suggestions:
When eating on the run, have the side salad instead of fries.
When at the store, fight the urge to restock the soda stash. Instead, focus on water intake to improve satiety and hydration.
Dr. Weston adds that the dietitians at Good Shepherd Hospital do a very nice job helping people set healthy calorie intake goals and teaching healthy portions and meal balance.
"This is critical teaching for patients struggling with weight," Dr. Weston says.
Registered dietitians design nutrition programs according to the unique needs of each individual. To learn more about developing a personal diet plan, menu planning and lifestyle programs, click here.
Related Posts
Comments
About the Author
Kathleen Troher, health enews contributor, is manager of public affairs and marketing at Advocate Good Sheperd Hospital in Barrington. She has more than 20 years of journalism experience, with her primary focus in the newspaper and magazine industry. Kathleen graduated from Columbia College in Chicago, earning her degree in journalism with an emphasis on science writing and broadcasting. She loves to travel with her husband, Ross. They share their home with a sweet Samoyed named Maggie.