Truly a miracle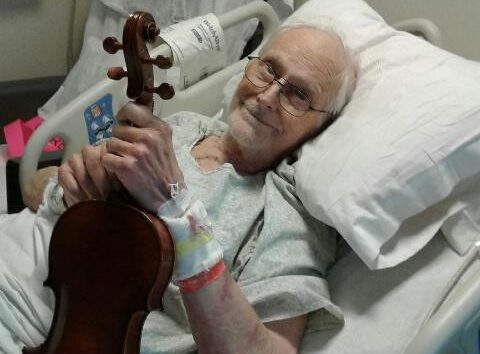 Thomas Daniels has spent a lot of time in the spotlight.
An avid violinist, performer and singer, he's not your typical 91-year-old.
In his younger years, he played in the Indianapolis Symphony and soloed in multiple orchestras on his violin. As a baritone vocal soloist, he also appeared in some musical comedies and was featured during the big band era on tv and on the radio.
And even at 91 years young, Thomas still teaches serious violin students from his home studio in Glenview.
But for Daniels, 2017 was a tough year.
"He was in the hospital three times this year, all for big surgeries," says his wife, Pat.
Daniels' health woes started last Easter when he was admitted to the hospital after a burst appendix.
A couple months later, Daniels broke his hip. But as they say, these things tend to come in threes.
This past October, while at home, Daniels felt a terrible pain in his stomach.
"I remember hearing him scream, and I knew that something was terribly wrong," explains his wife.
Daniels was taken by ambulance to Advocate Lutheran General Hospital in Park Ridge, Ill., where he was rushed into open heart surgery due to a tear in his ascending aorta.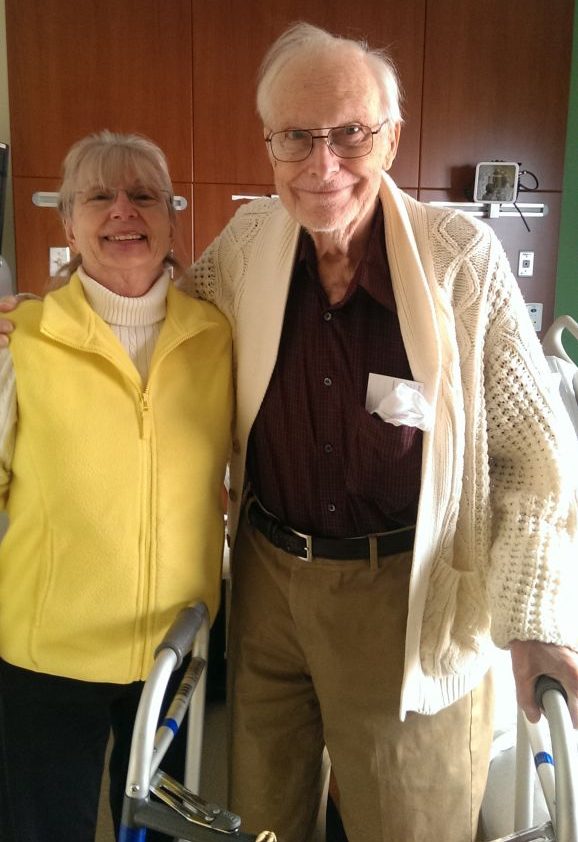 "Mr. Daniels had emergency surgery late Sunday night when he came to Lutheran, and his surgeon, Dr. Thomas Hinkamp, worked on him for several hours," says Dr. Frank Lutrin, a cardiovascular surgeon at the Advocate Heart Institute at Lutheran General. "He replaced the entire first part of his aorta and resuspended his aortic valve to make it work again, one of the most complicated operating surgeries. This is an enormous operation for a patient at any age, let alone someone who is 91."
"He was in surgery through the night," says his wife. "Somehow, I knew he would come through this, too, by the grace of God, knowing the strong, determined man Tom has always been. It truly was a miracle."
Thankfully, Daniels had a successful surgery, and soon thereafter, Daniels was already asking for his favorite sidekick, his violin.
"I remember he went from the Intensive Care Unit to the telemetry floor to the rehab floor, and the one constant was he was asking for his violin to play," says Daniels' daughter, Jeanine.
"I really think his singing and playing have helped his recovery," says his wife. "It's definitely helped with his breathing and his upper body strength since the surgery. I really think the more active you are, the better you age and recover in these types of situations."
And his doctors agree.
"Daniels' post-operative course was long and difficult, but he simply doesn't quit," says Dr. Lutrin. "His active lifestyle, always challenging himself, his love of music and constant yearning to play his violin are all part of the reason he made such a miraculous recovery. Aortic dissection is devastating, but clearly no match for Thomas Daniels. The man is an inspiration. I tip my hat to the skill of the surgery, anesthesia, nursing, perfusion, SICU, Telemetry and rehab teams. It truly takes a village, and I am proud that at Lutheran General, such a top-notch village exists."
And with his 92nd birthday coming up, Daniels is on the road to recovery. While the cold winter weather has kept him inside, he hopes to soon start teaching his violin lessons again from his home in Glenview.
"Last year was definitely a big year with three big trips to the hospital," he says. "But that wasn't going to stop me. The doctors and staff at Lutheran General truly were magnificent in their care. They saved my life. And allowed me to keep playing my violin – for hopefully years to come," he says with a smile. "For this, I am truly grateful and wish to express my sincere gratitude and heartfelt thanks to each and every person who had a hand in helping me through this difficult journey."
Related Posts
Comments
About the Author
Jacqueline Hughes is a former manager, media relations at Advocate Aurora Health. Previously, she was the public affairs and marketing manager at Advocate Lutheran General Hospital in Park Ridge, IL. She earned her BA in psychology at Stanford University in Palo Alto, California. Jackie has 10 plus years experience working in television and media and most recently worked at NBC 5 in Chicago. In her free time, she enjoys swimming, going to the movies and spending time with her family.