Could this be the reason you have trouble sleeping?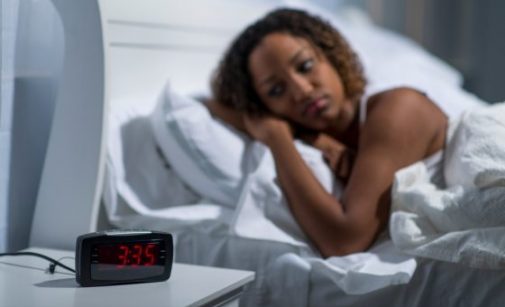 Do you lie awake at night frustrated because you can't fall asleep? Or wake up often in the middle of the night unable to go back to sleep?
You may have a common sleep disorder called insomnia, and new research shows your parents may be to blame.
In the study, published in Molecular Psychiatry, researchers examined factors that affected whether someone had insomnia, specifically looking at DNA samples for over 33,000 participants. They also had participants fill out a questionnaire relating to their sleep habits to determine whether they had insomnia. The criteria for the diagnosis was based on DSM-5 criteria for chronic insomnia.
Their research showed that insomnia is partially heritable and particularly connected to a mutation on chromosome seven.
"The results of the study are interesting, but more studies need to be done to validate and verify the findings," says Dr. Yelena Tumashova, a sleep medicine specialist at Advocate Lutheran General Hospital in Park Ridge, Ill. "In my experience, insomnia is multifactorial in nature, but genetic predisposition is possible, as I do see insomnia patients in our sleep clinic who have parents and siblings with similar problems."
Dr. Tumashova adds that while there is currently no commercial genetic testing available for insomnia, there is no need for the test, as treatment is the same whether the cause is genetic or otherwise.
What is important is determining whether one's insomnia is short-term or chronic. Some people have trouble sleeping for a matter of days, while others have long-term issues which can last for a month or more.
Oftentimes, short-term insomnia is associated with a stressful or traumatic event, while long-term insomnia may involve other factors.
"Insomnia is a common diagnosis in our clinic and is frequently associated with other sleep disorders such as sleep apnea or restless leg syndrome," she says. "Proper evaluation at the sleep clinic is necessary to establish a diagnosis and determine the appropriate treatment or therapy."
Concerned that you have insomnia?
Symptoms include:
Difficulty falling asleep
Waking easily during the night with the inability to fall back asleep
Feelings of exhaustion in the morning
Daytime sleepiness
Persistent concern about lack of sleep
For the occasional sleepless night, Dr. Tumashova recommends switching off all 'smart' devices, taking a warm bath or drinking herbal tea with chamomile, valerian root or passion flower.
Related Posts
Comments
About the Author
Jacqueline Hughes is a former manager, media relations at Advocate Aurora Health. Previously, she was the public affairs and marketing manager at Advocate Lutheran General Hospital in Park Ridge, IL. She earned her BA in psychology at Stanford University in Palo Alto, California. Jackie has 10 plus years experience working in television and media and most recently worked at NBC 5 in Chicago. In her free time, she enjoys swimming, going to the movies and spending time with her family.