Are you at risk for this common complication?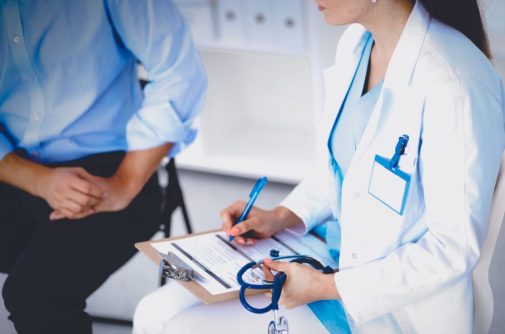 Renee Simes knew something was wrong when she had trouble climbing a flight of stairs at work one day.
"I'm a third-grade teacher in Woodstock, Ill., and I remember walking up a flight of stairs to class this past summer and being so winded," she says. "That was one of the first signs that something wasn't right."
The signs continued when she noticed her legs were swelling, a well-known sign of a heart issue.
For Simes, who had been treated for breast cancer six years earlier, she knew it was time to see a doctor.
"I remember when I was going through treatment years ago, being acutely aware of the heart risks of cancer treatment," she says. "Little did I know that years later, I'd be seeing a cardiologist because of the post effects of my treatment."
But with eight rounds of chemotherapy, 21 rounds of Herceptin and seven weeks of radiation, she was doing just that. Her oncologist, Dr. Sigrun Hallmeyer, referred her to Dr. Marianna Krive, a cardio-oncologist at Advocate Lutheran General Hospital in Park Ridge, Ill.
After an ultrasound of the heart, a stress test and a coronary angiogram, Simes was diagnosed with non-ischemic cardiomyopathy, a condition where the heart muscles are weakened so the heart has to work harder to push blood through the chambers.
"Non-ischemic cardiomyopathy can frequently lead to heart failure and an irregular heartbeat," says Dr. Krive, a cardio-oncologist at the Advocate Heart Institute at Lutheran General Hospital. "It's a fairly common and dangerous adverse effect of life-saving chemotherapy for breast cancer, which may compromise effectiveness of treatment and negatively influence a patient's quality of life. The risk for developing this complication depends on a variety of factors like the dose of medications, treatment with radiation, a patient's age, whether they have pre-existing heart disease or hypertension. In addition, the condition can occur immediately after treatment or up to 20 years after exposure to chemotherapy."
Fortunately for Renee, her cardiac dysfunction was detected very early, and her heart function had shown improvement at her appointment in February after being treated with appropriate medications.
"I'm so thankful for my physician team at Lutheran General," says Simes. "Going through a cancer diagnosis and treatment is tough enough. But having to endure heart issues years later, it's great to have such an amazing team on my side. They saved my life – twice."
Concerned about your risk for a cardiac issue during or post cancer treatment?
The Cardio-Oncology Program at Lutheran General Hospital provides monitoring and care for patients starting cancer treatment with potentially heart damaging agents.
"It's always easier to prevent toxicity than treat complications," says Dr. Krive.
She offers these recommendations for cancer patients:
If during the course of cancer treatment, you experience symptoms such as trouble breathing, shortness of breath, swelling in abdomen, legs, or feet, racing heartbeat, increased weakness or tiredness, dizziness, lightheadedness or chest pain, ask your doctor about a cardio-oncology consultation.
If you have pre-existing heart disease or heart failure, hypertension, diabetes, prior chemotherapy, underwent a radiation therapy to the chest or are a childhood cancer survivor, talk to your cancer specialist or primary care physician about being seen at a cardio-oncology clinic.
An estimated 19 million cancer survivors will live in the U.S. by 2024. Because of improvements in early cancer diagnosis and anti-cancer therapies, it's important that patients are aware of the increased number of cardiovascular complications and what their physicians can do to help.
Click here to learn more about the cardio-oncology program at Advocate Health Care.
Related Posts
Comments
About the Author
Jacqueline Hughes is a former manager, media relations at Advocate Aurora Health. Previously, she was the public affairs and marketing manager at Advocate Lutheran General Hospital in Park Ridge, IL. She earned her BA in psychology at Stanford University in Palo Alto, California. Jackie has 10 plus years experience working in television and media and most recently worked at NBC 5 in Chicago. In her free time, she enjoys swimming, going to the movies and spending time with her family.