Are some women getting mammograms more frequently than recommended?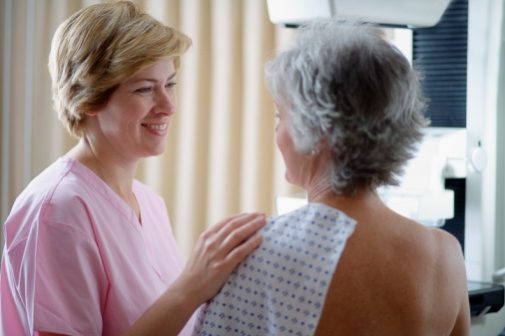 Mammograms are deservedly hailed as an integral part of keeping women healthy and safe from breast cancer.
But one federal commission believes some women are actually get them more frequently than they need to – though that's not necessarily a bad thing, says one Advocate Health Care breast surgeon.
In 2009, the U.S. Preventive Services Task Force bucked previous medical wisdom by recommending women at average risk be screened every two years beginning at age 50 and upheld the decision in 2016.
The decision was driven by a desire to reduce over-diagnosis and false positives. Both can result in overtreatment of breast cancers that would otherwise not have become a threat to a woman's health, unnecessary biopsies and anxiety.
However, other reputable organizations are not aligned with those recommendations:
The American Cancer Society recommends women with an average risk of breast cancer should have annual mammography starting at age 45, then every other year after 54.
The American College of Radiology, National Comprehensive Cancer Network and Society of Breast Imaging recommend annual screening beginning at 40 with no upper age limit.
"The only test proven to reduce breast cancer deaths is a mammogram," says Dr. Gale England, a breast surgeon at Advocate Good Samaritan Hospital in Downers Grove, Ill.
Since then, women have not fully embraced the task force's – or even the more conservative American Cancer Society's – changes, according to a survey published in the Radiological Society of North America.
In the study, a team surveyed 731 women with the mean age of 59 who were undergoing screening and diagnostic mammograms at Einstein Medical Center in Philadelphia. Women were asked whether an abnormal mammogram or breast biopsy causes emotional harm; whether screening every two years was associated with less or more anxiety; and whether they preferred to have a screening mammogram every other year or every year. The team also took variables such as age, race, family and personal history of breast cancer into consideration.
Of the women, 71 percent preferred getting screened every year, with only a family history of breast cancer and prior breast biopsy showing additional positive influence over annual screening preference.
Dr. England says patient preference plays a huge role in their care – doctors can only educate their patients so they can make the best decisions, but ultimately, it rests on the patient as to what test they do. Mammography has helped reduce breast cancer mortality in the U.S. by nearly 40 percent, according to the American College of Radiology.
"To get called back with a finding on mammogram is stressful, and patients worry until the results are back," she says. "But the alternative of delaying a diagnosis of cancer is worse in most women's opinion, so most women are willing to have annual mammograms."
Our Breast Health Assessment estimates your five-year and lifetime risks of developing breast cancer.
Related Posts
Comments
About the Author
Nathan Lurz, health enews contributor, is a public affairs coordinator at Advocate Good Samaritan Hospital. He has nearly a decade of professional news experience as a reporter and editor, and a lifetime of experience as an enthusiastic learner. On the side, he enjoys writing even more, tabletop games, reading, running and explaining that his dog is actually the cutest dog, not yours, sorry.