Getting the best mammogram possible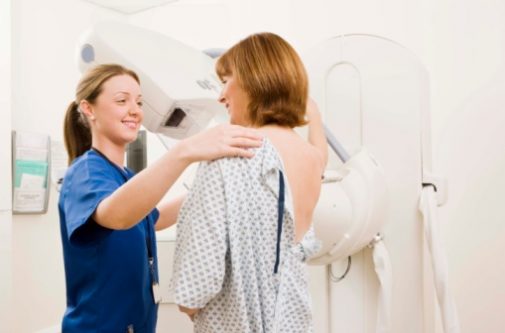 Do 3D mammograms give physicians distinctly better information to make breast cancer diagnoses than 2D mammograms?
That's what Dr. Nila H. Alsheik, a diagnostic radiologist at Advocate Lutheran General Hospital in Park Ridge, Ill., set out to study with her team of researchers. Results of the study were recently published in Academic Radiology.
Dr. Alsheik and team, which includes Firas Dabbous, a manager at the Russell Research Institute at Advocate Lutheran, used a sample of approximately 325,000 mammograms from two major health systems. Approximately 60 percent of the mammograms in their sample were 3D; about 40 percent were 2D.
A 2D mammogram takes pictures from the front and side only, which can hide subtle breast cancers and create shadows comprised of overlapping breast tissue. 3D mammograms produce pictures in "slices" from many different angles, much like a CT scan.
The mammograms studied were from patients who ranged in age from 40-79, with both average and elevated lifetime risk of developing breast cancer. Both health systems receive referrals from large geographically, ethnically, socioeconomically and racially diverse populations. Dr. Alsheik's team studied multiple benchmarks, including:
Cancer and invasive cancer detection rates: the number of cancers found out of 1,000 women screened
Specificity: The ability to call a mammogram negative when the patient truly does not have cancer
Tumor grade: Indicates what the cells look like and gives an idea of how quickly the cancer may grow and spread
Size: Used to help determine the stage of the breast cancer
Stage of tumor at diagnosis and nodal status: Describes the extent of cancer and helps plan treatment
Dr. Alsheik and team found significant improvements in patient outcomes with 3D screening mammography versus 2D mammography. Improved outcomes included:
Decreased need for patient callbacks to obtain additional images after the original screening mammogram; an 8.83 percent recall rate with 3D mammography versus 10.98 percent with 2D mammography
Decreased need for patient callback ficial as research has shown that due to the anxiety they create, false positives can lead women to delay or avoid future screenings
3D mammography helped physicians find smaller, earlier stage cancers, which are easier to treat and would have been missed on 2D mammograms
22 percent increased cancer detection rate with 3D mammography
"These findings persisted across all age groups, races, breast densities and across both health systems," says Dr. Alsheik. "These findings were most pronounced in facilities performing predominantly 3D screening mammography, such as those at Advocate Health Care."
Dr. Alsheik says patients who received 3D screening mammograms that indicated cancer were also likely to have a biopsy and final diagnosis within a shorter time frame than with 2D mammography.
Advocate Lutheran was one of the first institutions in the country to perform 3D mammography, and nearly 100 percent of patients at Advocate Lutheran General Hospital now receive 3D screening mammograms. 3D mammography technology is available at all Advocate sites and approximately sixty-five percent of patients systemwide receive 3D mammography.
"At Advocate Health Care, we were really proactive in bringing 3D mammography to all of our facilities from the very beginning and fortunate that barriers to access were equally reduced for all patients across our incredibly broad service area," says Dr. Alsheik.
She says this study reinforces the value of 3D screening mammography across our entire patient population, regardless of race, breast density or age. "In addition to finding more cancers with 3D mammography, we are able to reduce unnecessary downstream procedures for patients, thereby potentially reducing overall health care costs and morbidity while improving patient outcomes.
"Screening mammography is the only modality shown to reduce death from breast cancer and we continue to strongly recommend annual screening mammography in all women beginning at age 40," says Dr. Alsheik.
Our Breast Health Assessment estimates your five-year and lifetime risks of developing breast cancer.
Related Posts
Comments
About the Author
Kate Eller was a regional director of public affairs and marketing operations for Advocate Health Care. She enjoys road trips, dogs, minimalism, yoga, hiking, and "urban hiking."