Making a real difference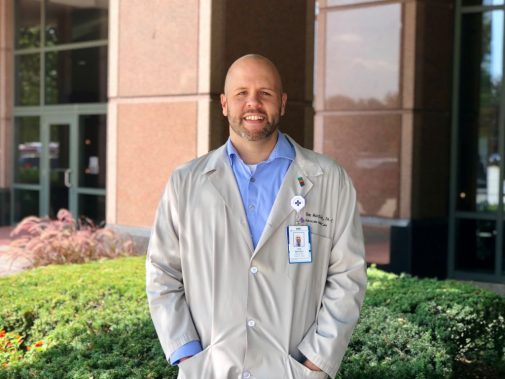 For as long as I can remember, I have always had an interest in helping people live their best lives. As a child, this often took the shape of volunteering at various community venues. As a young adult, it guided me to my first career as a social worker. I was fortunate enough to have been able to work at an HIV clinic right out of school.
It opened my eyes to the world, and it left me longing to do more in my professional life. I loved that I could help people, but I also knew that I wanted to do more…enter the Physician Assistant (PA) profession.
During my time at the clinic, I got to see PAs in action. I was able to see their high level of skill, the wide range of responsibilities they carried, as well as their vital role in the health care team. Most importantly, I saw the impact they had on the lives of patients they cared for.
As I soon learned, PAs are trained and licensed to practice medicine in a variety of specialties, in a multitude of venues with the collaboration of a physician. Our duties include taking health histories, performing comprehensive and focused physical exams, ordering diagnostic tests, prescribing medications, providing patient education and preventive health care counseling. We often have our own patient panels and provide consistent high-quality care.
I soon realized this was the career I was made for, and I went back to school to obtain my degree and become a certified PA. The PA program itself was a rigorous 27-month program which included a year of didactic education as well as a year of clinical rotations. I logged almost 2,000 clinical hours in the many areas of medicine as I earned my degree. I could not imagine the career that was waiting for me as I earned my Master's degree and sat for the national certification exam.
As an advanced practice clinician (APC) – a term that encompasses both PAs and advanced practice registered nurses (nurse practitioners) – I am fortunate to be able to practice independently, drawing upon my advanced training to best serve the needs of the patients of Advocate. However, as a valued member of the health care team, I am also able to collaborate closely with physicians when patients need a more advanced level of care.
Being a part of the Advocate network also affords me the opportunity to interface with a wide range of specialists, truly some of the best in the business, all to meet the needs of our patient.
I am happy to be in a position that allows me to spend time with my patients and develop a meaningful and productive relationship with them. As a pediatrics PA, this also means I am in a unique position to work with families as they grow and develop. I get to see teenagers go off to college, while also helping first-time parents navigate welcoming a new life into the world. I am humbled daily by the thought that parents trust me with their most precious asset, the care of their child.
I am proud to be a PA. Every day, I experience the difference that PAs and APRNs make in the lives of our patients, our communities, as well as our health care system at large. Being a part of an organization that models top of my license practice allows me to use all of my advanced training to make a positive impact where it matters the most – the lives of the families I come into contact with daily.
Don Martinez, MMS, PA-C is a certified physician assistant in the pediatrics department at Advocate Medical Group (AMG) in Olympia Fields, Ill. He also serves on the AMG APC Advisory Council and is the Professional Development Lead for the Office of APCs. Don's responsibilities also include being the APC Representative on the AMG Operations Improvement Committee.
Related Posts
Comments
About the Author
Don Martinez, MMS, PA-C is a certified physician assistant in the pediatrics department at Advocate Medical Group (AMG) in Olympia Fields, Ill. He also serves on the AMG APC Advisory Council and is the Professional Development Lead for the Office of APCs. Don's responsibilities also include being the APC Representative on the AMG Operations Improvement Committee