Is this diet the key to weight loss?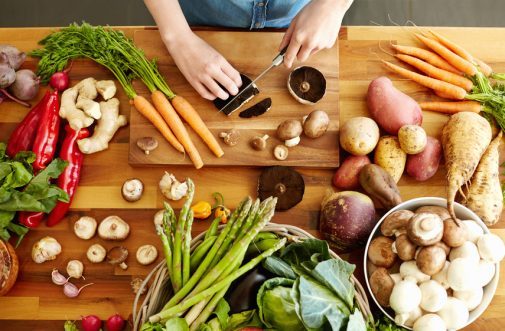 So you want to shed a few pounds and are considering going vegan to reach your goal? A 2016 study published in the Journal of General Medicine says you may be on the right track.
After comparing results from 1,151 dieters who pursued weight loss over the course of 18 weeks, researchers concluded that people lose more weight following vegetarian diets. In fact, vegans (vegetarians who stay away from eggs, milk and cheese) lost more weight than vegetarians who ate dairy products. Both groups of vegetarians lost more weight than meat eaters, the study says.
"It is possible to lose weight without adopting a strict vegan diet," says Dr. Estella Martinez, a family medicine physician at Advocate Trinity Hospital in Chicago. "However, vegan diets tend to be more successful because they are usually based on a wider variety of fresh fruits and vegetables, which fill you up with fewer calories."

Dr. Martinez cautions that there is no magic formula for weight loss. "Even vegans can experience weight challenges if they're not careful," she says. "The key to losing weight – whether you eat meat or not – is burning more calories than you eat and fueling up with natural, whole foods without preservatives."
If you are considering going vegan to lose weight, make it your priority to limit your intake of the following technically vegan foods:
Meat substitutes: Eating whole foods is the best strategy for weight loss. Vegan meat substitutes are convenient and quite tasty. But they can also be high in fat and sodium, which can hurt your weight loss efforts.
Fried foods: Because of their high fiber content, it's safe to add sweet potatoes, chick peas and lentils to your list of yummy vegan superfoods. But when these ingredients are fried into chips, fries, falafel, samosas and other vegan treats, their calories can really add up.
Refined grains: Whole grains give us energy and are a healthy component of a vegan diet. On the other hand, grains that have been processed – like white rice, white bread and white pasta–lack the higher fiber and nutrient content of their natural states.
Sugar: Going vegan won't guarantee weight loss, unless you also limit your intake of sugar. Overindulging in cakes, pies and cookies – even vegan versions – is a definite no-no for weight loss. If you must use sugar, opt for organic, raw sweeteners.
Dr. Martinez suggests checking with your doctor before starting any new diet or exercise plan.
Related Posts
Comments
About the Author
Cassie Richardson, health enews contributor, is regional coordinator on the Public Affairs team for Advocate Health Care and Aurora Health Care. She has more than 10 years of experience in health care communications, marketing, media and public relations. Cassie is a fan of musical theater and movies. When she's not spreading the word about health and wellness advancements, she enjoys writing fiction.