Cardiac warning signs you shouldn't ignore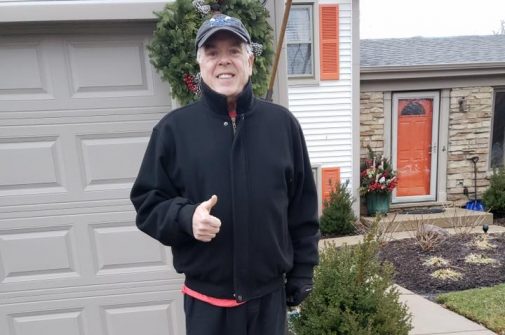 Lake Zurich Mayor Tom Poynton is counting his blessings after undergoing a quadruple bypass on New Year's Eve at Advocate Good Shepherd Hospital in Barrington, Ill.
The 72-year-old had been admittedly ignoring symptoms and warning signs of cardiac issues for several years, including chest pressure and shortness of breath during physical activity that improved with rest.
"I didn't have the sweating, I just had this pressure in my chest," he says. "Simple exertion made me stop and catch my breath. My voice wasn't strong, and I would cough a lot."
By early December, these warning signs were lasting longer and getting worse. With a family history of heart disease, he went in for a stress test and angiogram that led to plans for heart bypass surgery.
Although he anticipated that his heart was compromised, learning that one artery was 100 percent blocked and three others were 90 percent blocked stunned him.
"I knew it wasn't going to be good, but I did not expect it to be that bad," Poynton says.
He was, however, very fortunate because he did not have a heart attack, and there was no damage to the ventricle, which does the pumping in the heart.
Good Shepherd Cardiologist Dr. Doug Tomasian says Poynton was fortunate that he hadn't done any damage.
Poynton underwent a quadruple bypass at Good Shepherd, performed by Dr. Timothy Votapka, that Dr. Tomasian says was "remarkably smooth". He returned home after just four days at Good Shepherd. Now, with a 15-inch scar down the middle of his chest, Poynton is realizing how lucky he was.
For now, Poynton is focusing on rehabilitation and regaining his strength, and he is looking forward to a May trip to Mexico with his wife.
"Hopefully, I'll have my walking legs back by then," he says.
A busy and active man, Poynton and his wife, Jan, spent more than two weeks hiking the parks in Utah and Colorado, including climbing to the top of Angel's Landing at Zion National Park, in October 2017.
"No question, I dodged a bullet," he says. "How I didn't have a heart attack is incredible to me."
Dr. Tomasian says Poynton's story is, unfortunately, not unusual.
"There are people who live with the symptoms, who ignore their disease because the pain goes away after a little bit," Dr. Tomasian says. "It's important to not ignore those symptoms. If they come with exertion and then go away with rest, it's a good sign that it's related to your heart."
Poynton agrees.
"As much as you want to be macho about it, pay attention to your body," he says.
Heart disease is the leading cause of death in America, and knowing your risk of developing it can help lower your chances. Take our Heart Health Assessment to estimate your risk, determine your controllable and uncontrollable risk factors and receive guidance on what to do next.
Related Posts
Comments
About the Author
Heather Collier works in the public affairs and marketing department for Advocate Health Care and Aurora Health Care. She is based in Milwaukee.