Surviving breast cancer for a first Mother's Day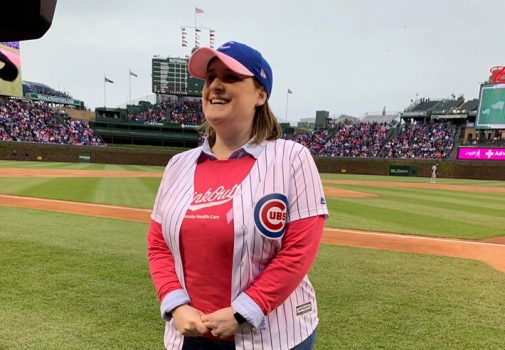 Looking back on the last year, Kristen Hall and her husband Keno didn't expect their lives to change twofold. They proudly welcomed two beautiful daughters, Josephine Esther and Ivy Rose, in March 2019.
Kristen's journey to motherhood is a unique and inspiring story. At the end of summer 2018, Kristen and Keno joyously learned they were pregnant with twins. On the way to a Cubs game at Wrigley in September to celebrate their 10-year anniversary, Kristen received devastating news that she was diagnosed with breast cancer.
After deciding to get a second opinion, Kristen was directed to Dr. Heidi Memmel, Co-director of the Caldwell Breast Center and breast surgeon, and Dr. Pamela Kaiser, an oncologist at Advocate Lutheran General Hospital in Park Ridge, Ill. Kristen's diagnosis was confirmed, and it was time to begin her treatments.
While pregnant with the twins, Kristen underwent a right mastectomy on November 12 of last year and began chemotherapy on December 20, her husband's birthday. She worked full-time while pregnant and undergoing treatments with the support of her family, friends and colleagues.
"I will never forget going into the operating room completely terrified, and Dr. Memmel came over to me and told me everything would be okay," says Kristen. "I just focused on her beautiful pearl earrings until I fell asleep. I will never forget those pearl earrings or the comfort she brought to me in a time of uncertainty. The quality of care I have received at Lutheran has been excellent!"
On February 21, 2019, a month before welcoming her daughters to the world, Kristen received wonderful news that she was officially cancer free. Kristen says that her daughters saved her life. She had been seeing an infertility specialist and because of taking estrogen and progesterone, her tumor grew faster than it normally would. If not for this, it would have grown at a slower rate and most likely would have been missed until it became more aggressive and harder to treat.
Kristen attended the annual Cubs Pink Out event on Sunday, May 12, Mother's Day, as the Honorary Bat Girl for 2019. Joined by her husband, mother and aunts, Kristen celebrated her first Mother's Day at Wrigley and honored fellow breast cancer fighters and survivors. As part of the planned activities, our patients helped raise awareness by participating in a pink ribbon ceremony on the field before the game, throwing out the first pitch, taking the bases with the players and singing the 7th inning stretch.
"The annual Pink Out Game on Mother's Day is to help bring about awareness for women to get their mammogram and genetic testing if they have a family history," says Dr. Memmel. "Breast cancer is completely beatable and survivable."
To learn more about breast health screenings or to find out if you are eligible for them, click here.
Related Posts
Comments
About the Author
Neda Veselinovic, health enews contributor, is a public affairs coordinator at Advocate Lutheran General Hospital. She has more than five years of public relations experience and most recently worked with clients in the travel and hospitality industries. She prefers to spend her time with a cup of coffee and a good read and always welcomes book recommendations.