One way to recover from surgery faster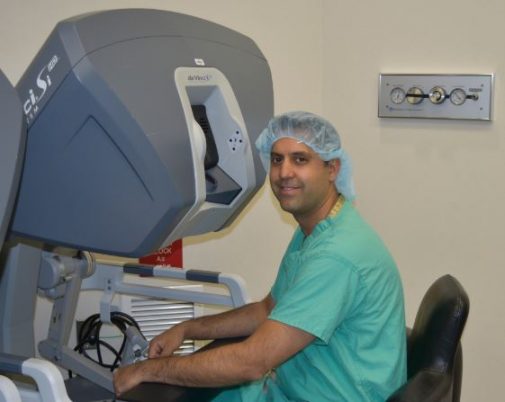 Recent advances in robotic systems assist surgeons in the removal of tumors in hard-to-reach places, especially in the head and neck.
Dr. Nirav Thakkar, an otolaryngologist at Advocate Christ Medical Center in Oak Lawn, Ill., who specializes in head and neck oncology and reconstructive surgery, says robotic surgical systems allow him to be more precise during microscopic procedures.
Robotic-assisted surgery makes it possible for surgeons to perform minimally invasive versus an open procedure that requires an incision from outside of the body, he says.
Dr. Thakkar typically uses the robot to assist in surgery for patients who have cancer on their tonsils or at the base of their tongue.
Head and neck cancers generally occur inside the mouth, nose and throat, and can often be attributed to tobacco and alcohol use in addition to the human papillomavirus (HPV), according to the National Cancer Institute.
While there are two options to remove the tumor, Dr. Thakkar prefers, when possible, minimally invasive transoral surgery versus conventional or open surgery. The robotic system provides him the ability to enter the surgical site through the mouth, where he can guide tiny instruments to locate and remove the tumor.
"Prior to the new technology, we would only find about 60-80% tumors using our exam and imaging, such as PET scans. The robot has greatly improved our ability to identify and remove tumors in the throat," he says.
The surgical system offers greater vision through a high-definition 3D monitor in addition to enhanced precision and control for surgeons through tiny instruments that can bend and rotate better than their hands.
Robotic-assisted surgery also greatly benefits patients, says Dr. Thakkar.
"Healing for patients is much quicker when we enter through the mouth compared to when we make an incision in the neck. Patients experience shorter recovery times, less pain and blood loss, in addition to fewer scars and infections," he says.
Patients who undergo open surgery for throat cancer are hospitalized longer, have increased difficulty swallowing and can require a tracheotomy tube, Dr. Thakkar says.
"My goal is to get patients back to their normal activities as soon as possible," he says.
Related Posts
Comments
About the Author
Johnna Kelly, healthe news contributor, is a manager of public affairs and marketing at Advocate Christ Medical Center in Oak Lawn. She is a former newspaper reporter and spent nearly 10 years as a public relations professional working for state and county government. During her time as a communications staffer for the Illinois General Assembly, she was integral in drafting and passing legislation creating Andrea's Law, the nation's first murderer registry. In her spare time, she volunteers at a local homeless shelter, enjoys traveling, photography and watching the Chicago Bulls.