Breastfeeding at the ballpark?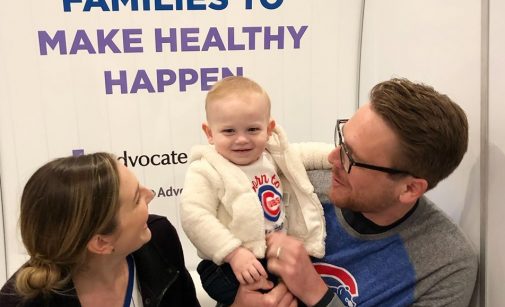 Just in time for Mother's Day, Chicago Cubs fans now have the option to use a new lactation pod at Wrigley Field. The suite gives moms a private space to nurse or use a breast pump at the stadium.
As the Official Health Care Partner of the Chicago Cubs, Advocate Aurora Health teamed up with the Cubs to provide this "Quiet Little Den for You and Your Cub," while still honoring women's right to breastfeed in the open.
"This is one of the many meaningful ways we use our partnerships to improve our communities," says Kelly Jo Golson, chief marketing officer of Advocate Aurora Health, of which Advocate Health Care is a part. "Attending concerts, ballgames and other public events can be stressful for nursing mothers, so we're proud to team up with the Cubs to offer a quiet suite for moms who are seeking a safe, comfortable, convenient environment to breastfeed or pump. It really comes down to our purpose: to help people live well."
The pod is located near Gate 4 on the left field concourse, just inside the Gallagher Way entrance. The lockable, freestanding room features two benches, a table, a charging station and an outlet for plugging in a breast pump.
Barrington, Ill. parents Emily and Matt Tryniecki checked out the pod with their son, Leo, ahead of Sunday's Mother's Day game.
"I'm usually very uncomfortable breastfeeding at big venues," Emily Tryneicki says. "You have to go into a stall – it's cramped, it's noisy. Normally, we just avoid events, or I leave early. This makes it so much more comfortable. It's roomier, I feel like I can take my time and even Leo can relax and feel more comfortable in here. Knowing this is an option that's readily available, we could use this easily and stay for the whole game."
"This is such a great addition to Wrigley Field," Matt Tryniecki says. "Thinking about our son and how he's going to get fed is definitely a stressor any time we go to an event where it's crowded or loud. This makes it easier for the whole family, so it's just great to know we have this option and that the Cubs and Advocate were thinking about this."
Mothers should refer to a lactation consultant or breastfeeding class for the best breastfeeding education. Advocate hospitals offer lactation services for new and expecting mothers, including breastfeeding classes and outpatient lactation clinics for mothers who are in their third trimester.
Last September, Advocate Health Care teamed up with the Chicago Bears to bring a lactation pod to Soldier Field.
Related Posts
Comments
About the Author
Kelsey Sopchyk, health enews contributor, is a media relations coordinator at Advocate Aurora Health. She earned her BA in journalism and mass communications from the University of Iowa. In her spare time, you can find Kelsey tending to her plant children, trying new sushi restaurants in Chicago and cheering on the Cubs.