How one volunteer is trying to help his fellow veterans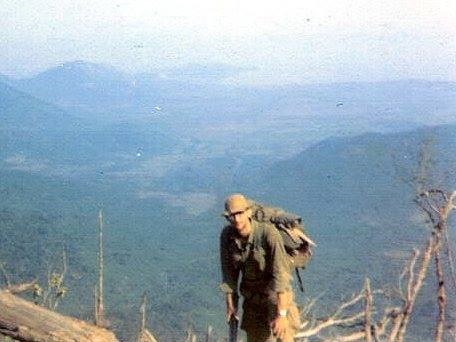 Veterans can struggle with their mental health, and the stigma around care can make it difficult for them to get help.
Finding services can be complicated, so just having someone to talk to can be an important place to start. That's why Vietnam War veteran Tom Jones volunteers at Advocate Sherman Hospital in Elgin, Ill. He says communication is a powerful and therapeutic tool for healing.
"Combat veterans are true survivors and our stories need to be told," says Jones who has worked as a counselor. "The things you talk about, you can control – the things you can't talk about, control you. By discussing our experiences, we can integrate them into our lives, and pay homage to our brothers and sisters who were unable to make it home."
Jones says one of the biggest challenges veterans face when they return home from their service is readjusting back to civilian life. He says it's important for both veterans and their families to work on their thoughts, feelings and behaviors.
"War has a profound effect and changes those who participate in it," Jones says. "Many veterans have non-visible wounds. Focus on others and practice compassion, generosity, acceptance and forgiveness and look for the higher meaning in your experience. A sense of humor is helpful as it allows you to focus on the positive side of life and relieves stress."
Despite the challenges, Jones suggests the country is heading in the right direction when compared to his days serving in Vietnam. In fact, post-traumatic stress disorder was first recognized as a disorder in 1980, five years after the Vietnam War ended.
"Vietnam veterans fought two wars, the war on the battlefield, and the war when they got back to the states," he says. "In 1982, the dedication of the Vietnam Veterans Memorial in Washington, D.C. began the process of changing the attitude of Americans toward those who served. The Gulf War and the period after 9/11 increased patriotism and respect for our military veterans. Today, it is common for people to approach Vietnam veterans to say: 'Thank you for your service.'"
For more information on mental health services in Illinois, click here. If you live in Wisconsin, click here.
Related Posts
Comments
About the Author
Natalie Passarelli is a Public Affairs Coordinator and Health eNews contributor at Advocate Aurora Health. Natalie formerly worked as a media relations specialist and attended Eastern Illinois University, where she earned a bachelor's degree in Communication Studies. Outside of work, you can catch her at a hot yoga class or cheering on the Chicago Cubs at Wrigley Field.