More water each day may keep the pounds away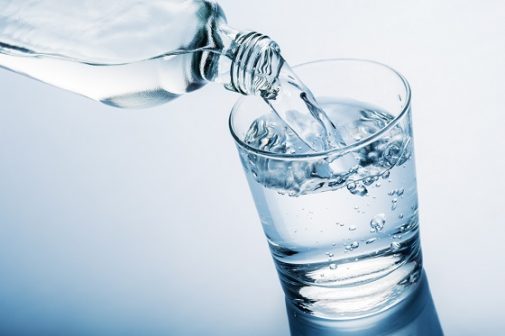 While the commonly accepted recommendation to drink eight glasses of water a day has been challenged by some experts in recent years, it's no surprise that water continues to be the top consumed beverage in the U.S.
And for people trying to control their weight, it may be the key to meeting weight loss goals.
According to a study published in the Journal of Human Nutrition and Dietetics, participants who increased their plain water consumption by one to three cups daily also decreased their total caloric intake by between 68 and 205 calories. In addition, the 18,300 U.S. adults included in the study decreased their sodium intake between 78 and 235 grams, sugar intake between five grams and nearly 18 grams and cholesterol intake by seven to 21 grams daily.
Plain water is considered tap water or water from a cooler, drinking fountain or bottle.
The study examined multiple years of data from the National Health and Nutrition Examination Survey. Participants were asked to recall everything they ate or drank over the course of two days. On average, participants consumed about 4.2 cups of plain water daily, accounting for slightly more than 30% of their total dietary water intake.
The study's findings support the advice that Dr. Udaya Bontu, an internal medicine physician with Advocate Sherman Hospital in Elgin, Ill., gives her patients who are trying to lose weight.
"I believe increased water consumption will make people have early satiety, and ultimately, they will eat less," says Dr. Bontu.
She suggests drinking one to two cups of water prior to breakfast, lunch and dinner to curb appetite.
"Sometimes people misinterpret thirst as hunger, so when they start drinking enough water, they may eat more appropriately," she says.
Given the human body is comprised of about 60% water, it is important to stay hydrated for more reasons than just weight loss. Maintaining energy levels, brain function, proper digestion and healthy skin are just a few additional health benefits of adequate water consumption.
Are you trying to watch your weight? Take a free, quick online assessment to learn more about your ideal weight by clicking here.
Related Posts
Comments
About the Author
Tonya Lucchetti-Hudson, health enews contributor, is public affairs director for Advocate Medical Group and Advocate Physician Partners.