Man treated for breast cancer speaks out to raise awareness for others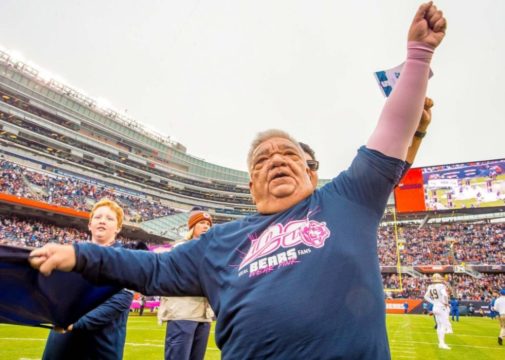 Each year, nearly 250,000 people are diagnosed with breast cancer in the United States. Early detection is key to treatment and survival, awareness is key.
However a percentage of those diagnosed with breast cancer may not be as aware of their risk – men.
Earlier this year, Luis Lopez was one of the estimated 2,200 men diagnosed with breast cancer each year when he found a lump in one of his breasts.
An exam confirmed his fear.
"I still get very emotional recalling that moment," he says. "When I was told, I immediately thought about my family and how worried they're going to be for me."
He was scheduled for a lumpectomy only a few weeks later, but once the procedure started his breast surgeon at Advocate Good Samaritan Hospital, Dr. Gale England, realized she needed to do a full mastectomy.
England says the symptoms and medical treatment of breast cancers are the same between men and women, though men often have a higher rate of mastectomies because they have less breast tissue. Similarly, they can take the same steps of living a healthy lifestyle to limit risk of breast cancer.
Luis says those in his life were overwhelmingly reassuring and supportive throughout his diagnosis and treatment, but he still felt a bit of internal stigma.
"At first I didn't think I was self-conscious about it but as time went on but I did notice I would hesitate when asked about my diagnosis," he says. "The doctors and nurses were great about it, reassuring me that it's common for men to get breast cancer too. It did feel a little awkward sitting in the breast center by myself waiting to get a mammogram surrounded by women."
After his mastectomy, he has a clean bill of health aside from some physical therapy and lymphedema, a chronic condition that often impacts cancer patients whose lymph nodes were removed during treatment.
Luis says he is lucky to have had the care and support in his life and in the doctor's office, but wanted those with breast cancer to be their own proactive advocate when it came to their physical and emotional health.
"You owe yourself that much. Try and surround yourself with positive loving people," he says. "I'm fortunate to have my family and friends who are always on my side willing to help in any way. On days where my health frustrates me, I know I can reach out and someone will be there. And most importantly – never give up hope."
Related Posts
Comments
About the Author
Nathan Lurz, health enews contributor, is a public affairs coordinator at Advocate Good Samaritan Hospital. He has nearly a decade of professional news experience as a reporter and editor, and a lifetime of experience as an enthusiastic learner. On the side, he enjoys writing even more, tabletop games, reading, running and explaining that his dog is actually the cutest dog, not yours, sorry.