Is it too late for you to start lifting weights?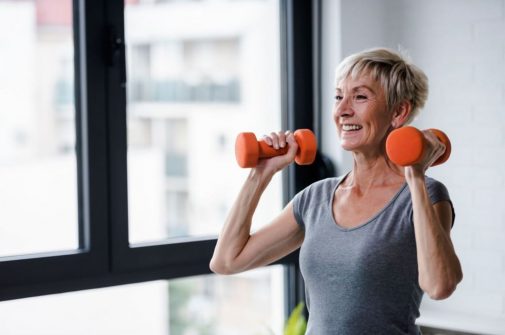 If you think you're too old to start strength training, you're wrong. And there's evidence that starting at any age will not only help build muscle and strength but will also build your motivation and confidence.
A recent study on the emotional impacts of lifting weights in older people showed that even those who thought they wouldn't like strength training continued to lift even after the formal study had ended if they felt competent in the gym.
Mary Casey, a physical therapist for Aurora Health Care based in Greenfield, Wis., says strength training is an important part of aging well.
"Bone density is something that is more of a concern as people age, and strength training is a great way to help keep bones strong and prevent fractures," Casey says. "The stronger you are, the longer you can maintain an independent and active lifestyle."
If starting weight training feels intimidating, don't worry, she says. Remember, everyone starts at the beginning.
"When something is unknown, it can be intimidating. Just like learning any new skill, the more experience you get, the more confident you feel," she said. "The great thing about strength training is that you will be able to see changes in yourself and your ability, which is a confidence booster."
Maybe going to the gym doesn't appeal to you. That's okay, Casey says. While strength training can be good for everyone, you don't have to become a gym rat to reap the benefits.
"It's common for people to be intimidated by weight training, but a simple pair of dumbbells or a set of resistance bands can go a long way," she said. "Body weight exercises are also gaining popularity, which can be done with a few spare minutes in your living room."
Casey offers some tips to begin a strength training routine:
Start simple. Do body weight exercises like squats, lunges or planks, using modified versions, if necessary, as you start at home. Check out reputable videos on YouTube for proper form.
Set goals and track your progress. A good way to help you feel more confident is being able to see the increase in repetitions and weight. Motivation comes from seeing where you started and how far you've come.
Ask for help. Tour your local gym and ask for instruction on using the weight machines. If you're already a member of a gym, find a staff member and ask for help.
Get a trainer or take a class. Consider taking a class that uses strength training or investing in a training session or two to get specific guidance.
Related Posts
Comments
About the Author
Heather Collier works in the public affairs and marketing department for Advocate Health Care and Aurora Health Care. She is based in Milwaukee.