The link between arthritis and your heart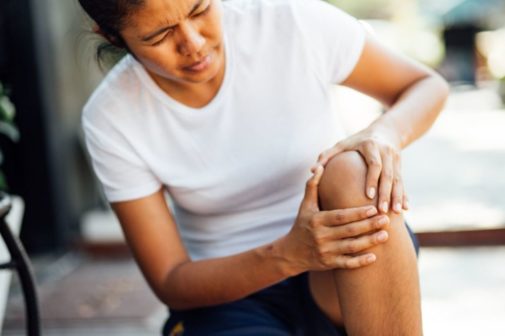 Osteoarthritis can make some exercise painful, and that nagging knee or hip pain can really hurt your motivation to work out.
But a recent study suggests a good reason to make some kind of exercise a priority.
The research published in the Journal of Osteoarthritis and Cartilage found that people with arthritis in their knees and hips were at greater risk for heart disease. The study tracked nearly half a million Swedish residents over up to 11 years.
Researchers found that people with knee and hip arthritis were nearly 20% more likely to die from a heart condition.
The study doesn't find that arthritis causes heart disease, of course. But painful arthritis can discourage exercise, and it's already well known that a lack of movement can lead to weight gain and heart troubles.
"We see that over and over again," says Dr. Stephen Kurtin, an orthopedic surgeon with Aurora Health Care in Grafton, Wis. "As we get into our middle ages, it is very easy to put on a few extra pounds of weight, and as our metabolism changes, it becomes harder to shed those same pounds."
Dr. Kurtin says he knows it can be hard to find time to exercise, especially when it's painful.
"But you have to prioritize it," he says. He suggests hitting the pool, hopping on a bike or trying an elliptical, all activities that have a smaller impact on your knees and hips.
"Go to the pool and you'll see people off all ages, men and women both," Dr. Kurtin says. "It's really, really hard to lose weight with diet alone. The best way to lose weight, and more importantly, improve overall cardiovascular fitness, is a healthy combination of diet and exercise."
Osteoarthritis is a wearing down of cartilage, which helps cushions joints between your bones. Dr. Kurtin says the first step to effective treatment is getting the right diagnosis and learning about the condition, so if you're having nagging pain, it could be time to see a doctor. 
After a diagnosis, treatment can include fitness and physical therapy, traditional anti-inflammation medicines, cortisone injections and even surgical options to improve the quality of your life.
Are you experiencing knee or hip pain? Take a free online quiz to learn more.
Read more:
Related Posts
Comments
About the Author
Mike Riopell, health enews contributor, is a media relations coordinator with Advocate Aurora Health. He previously worked as a reporter and editor covering politics and government for the Chicago Tribune, Daily Herald and Bloomington Pantagraph, among others. He enjoys bicycles, home repair, flannel shirts and being outside.