Health care heroes: Using creativity to help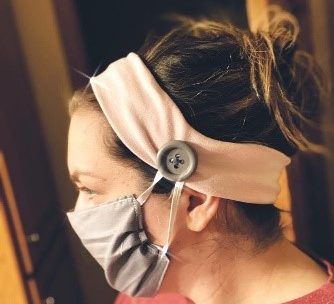 Two nurses at Aurora Medical Center – Bay Area in Marinette, WI, are using their connections and creativity to assist their team members in fighting the COVID-19 fight.
"After wearing masks for two shifts in a row, the back of my ears were so painful, I was literally in tears by the end of the second day," says Kara Walcher.
"I saw many posts on social media about these popular headbands that would relieve some of the strain on the ears," says Cassie Werner. "After talking with one of our doctors who was wearing masks almost 24 hours per day (between home and work), he described his cracked and near-bleeding ears."
Kara reached out to a couple friends to see if they could help – one has a sewing machine, the other has a 3D printer. And Cassie reached out to some of her Girl Scout troop moms who were off work due to the pandemic. Almost immediately, all were working together to make masks more comfortable using their creative minds and skills.
The result? Between 40-50 headbands with buttons to bear the straps of face masks, 50-60 homemade face masks, and 30 ear protectors (10 ribbons, five knitted and 15 that were 3D printed). And they're not done contributing yet.
The cloth masks can be worn by team members outside of Advocate Aurora Health campuses, aligning with the CDC guidance for wearing masks in public. They should wear exam masks on site.
Related Posts
Comments
About the Author
Brianna Wunsch, health enews contributor, is a public affairs coordinator for Advocate Aurora Health with a BA in public affairs from University of Wisconsin - Green Bay. In her free time, Brianna enjoys living an active lifestyle through biking, hiking and working out at the gym, but even more than that, she especially loves spending quality time with her two cats (Arthur and Loki), son and husband.